Taoiseach • Admin

Posts: 944
Joined: 23 Jan 2015 15:05
Nothing much is known about this issuer. The banknotes are of good quality.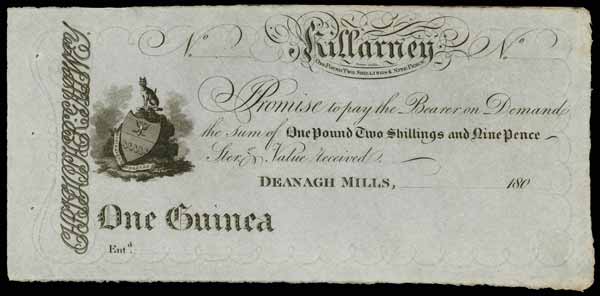 Deanagh Mills 1 Guinea ca1804
---
AU

Posts: 187
Joined: 04 Nov 2016 16:37
Is this actually a bank, or just a business that issued tokens?
It does not seem to have any partners listed.
---
UNC

Posts: 268
Joined: 26 Jan 2015 18:15
Paper Money of Ireland classifies this notes as a Tradesman Issue. Given the shortage of coinage at the time, many businesses issued their own notes although their main trade was not banking. Interesting to see that the name of the individual who issued this note is in scrolling text on the left side, a Christopher Galwey. He appears to have been the owner of the Mill. The embossed stamp for 3 pence suggests that stamp duty was paid to the Government by this issuer.
---
AU

Posts: 187
Joined: 04 Nov 2016 16:37
So it's a bit like the coin tokens made by businesses. Like the Menlo token in Galway.
---