Taoiseach • Admin

Posts: 1280
Joined: 23 Jan 2015 15:05
Newry Bank
John Moore, Robert Macan, Meredith Foxall.
The bank failed in 1816.
Newly Bank One Guinea 1814
AU

Posts: 238
Joined: 04 Nov 2016 16:37
Newry Bank 2 Pound notefrom 1813.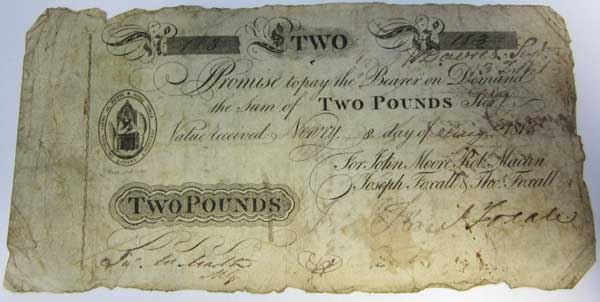 UNC

Posts: 615
Joined: 26 Jan 2015 18:15
Here is an early example of a £1 note issued by John Moore & Co, Newry, in 1805. An unusual feature is the strikethrough the bank title, Dublin address and two partner names. It has been reported that there were tensions with another banking house in the town, that of Trevor Corry & Company. PMI reports that two of Trevor Corry's former partners joined Henry Moore's Bank.

It is interesting to see that the later notes of John Moore & Co. did not use the title 'Newry Bank'.
Attachments

Newry Bank John Moore & Co. 1 Pound 11th Aug 1805.jpg (65.75 KiB) Viewed 255 times
Taoiseach • Admin

Posts: 1280
Joined: 23 Jan 2015 15:05
There's a story here! We will have to look into this one closely.