Prices for Irish banknotes were generally steady at the latest
Whytes
Eclectic Collector auction, 6 May 2017.
With around a hundred Ploughman notes on offer, including some scarcer banks, it was yet again a good test of the market for these notes.
There have been a lot of Ploughman notes coming new to the market over the past few years, over £500 in face value, in all grades, and all levels of rarity. It is a good time to start a collection of these, with somewhat of a glut of them on the mrket. Auction houses like Whytes and DNW are currently the best places to go for these notes, with some good value to be had in a steady though soft market where lots of newly available notes are looking for a good home.
There were also very good prices for Lavery notes at the whites auction, with each of four 1932 £10 notes fetching cutting edge prices. One note doing this well would be an anomaly, four in a row is a trend. Prices realised were: Lot 479, gVF tear (950); 480, VF writing on reverse (1000); 480A, about fine (750); 481, good fine with minor foxing (850). These are very good results indeed for this note in medium grade.
Earlier Lavery notes, pre-1961, especially higher denominations in nicer grades are being sought, and do tend to fetch good prices. We have seen this in
DNW
offerings in the recent past also. Scarcer issues in good grade continue to do well.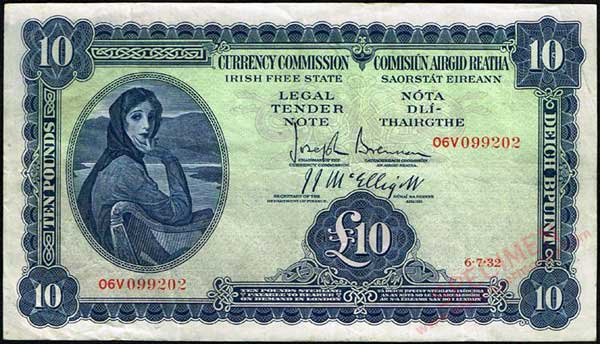 Lot 480 Currency Commission Irish Free State Ten Pound note 6.7.32 fetched 1,000 euro plus 27% fees in Whytes Auction on 6 May 2017.