1920 Republic of Ireland Bond Certificate Ten Dollars. SPECIMEN
Printed signature of Eamon de Valera (spelt phonetically in Irish as "de Bhailéara").
These bonds were issued to raise funds for Dáil Éireann during the Irish War of Independence.
Specimens of the bonds are unusual.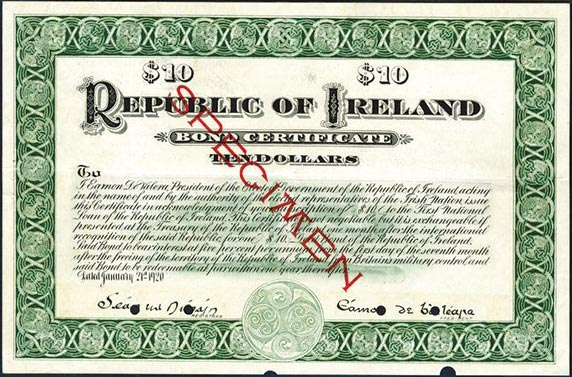 De Valera bond. Republic of Ireland Bond Certificate Ten Dollars.
Éamon de Valera, the president of the first Dáil, made a tour to the US in 1919. Whilst on this tour, over five million dollars was raised through the sale of these republican bonds.
However, he found himself on the losing side of the Irish Civil War which followed immediately after the end of the War of Independence in 1921, and a dispute arose regarding ownership of the money raised from the republican bonds in the US.
De Valera claimed the funds on behalf of his party. The government of the Irish Free State, under President William T. Cosgrave, also claimed the funds. The Irish High Court gave half the funds to the Irish government, and the other half of the funds remained on deposit in New York. In 1927, the New York Supreme Court ordered that the balance of the funds be returned to the original subscribers.
Several nice examples of these bonds have turned up in auction lately in Whytes, and other auction houses.