I got a 50p in my change today which is slightly ironic considering the current era of Brexitation.
The coin celebrates the United Kingdom's Presidency of the European Union, and the 25th Anniversary of the UK's accession to the European Economic Community.
I wonder if the
1998 European Union 50p
will remain Legal Tender after Brexit…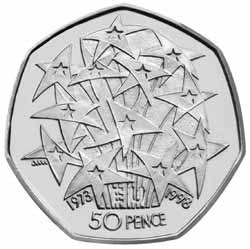 The 1973 nine hands 50p was nicer imo—a classic coin.