Home < Main Site Map < Irish Banknote Books - Irish Banknotes for Sale - Contact


---
Books on Irish banknotes


Out now, a new book on World War 2 banknote issues in Ireland
Scatter Risk and Special Markings
The Irish World War 2 'War Code' Banknote Issues, 1940 - 1944
by Martan MacDevitt

1st Edition 2022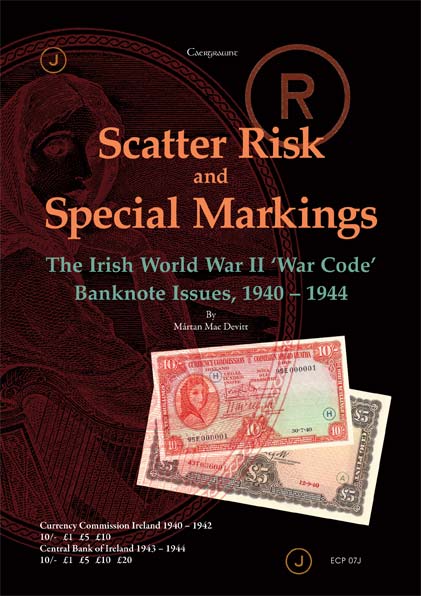 Price £18 including postage to Ireland and UK
Other countries please enquire for postage costs

Please send your enquiries by email.





Specifications: Card cover, 64 pages, A5 size (210mm x 145mm, 5mm thick), Staple bound. Black and white, with 14 colour pages.
A book on the World War 2 banknote issues of Ireland

An analysis of the records in the Central Bank of Ireland Archives reveals the story behind the creation of the Irish wartime 'war code' banknote issues as a solution to the risk of the notes becoming scattered due to war actions.


Irish World War 2 Banknotes - War Code notes
Date Listings. All war code denominations listed by date, with a complete listing of corresponding prefixes for each date, based on Central Bank records.



Rare Dates and varieties. Illustrations of all the rare dates and varieties, and a listing of the recorded examples of each of the rare dates.



Over 90 illustrations, with special attention made to illustrating the scarcer dates, and the first issued note of each denomination which were retained by Joseph Brennan. An example of each recorded war code £20 note date is illustrated in colour.



War code £20 notes. Details of all known examples of War Code £20 Notes, and a Review of the Prices Realised in Public Sales.



Displaced code notes. Dates with the wrong code letter. An analysis of The Displaced Code Variety on War Code 10 Shilling Notes and £1 Notes, with exact printage quantities, based on Central Bank records.



Current market valuations

of each denomination of the war code notes based on auction sale results.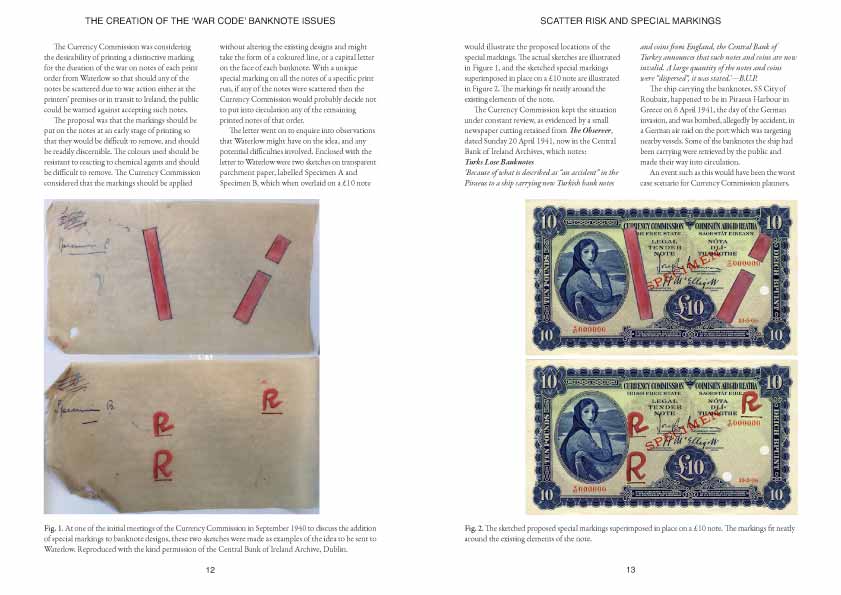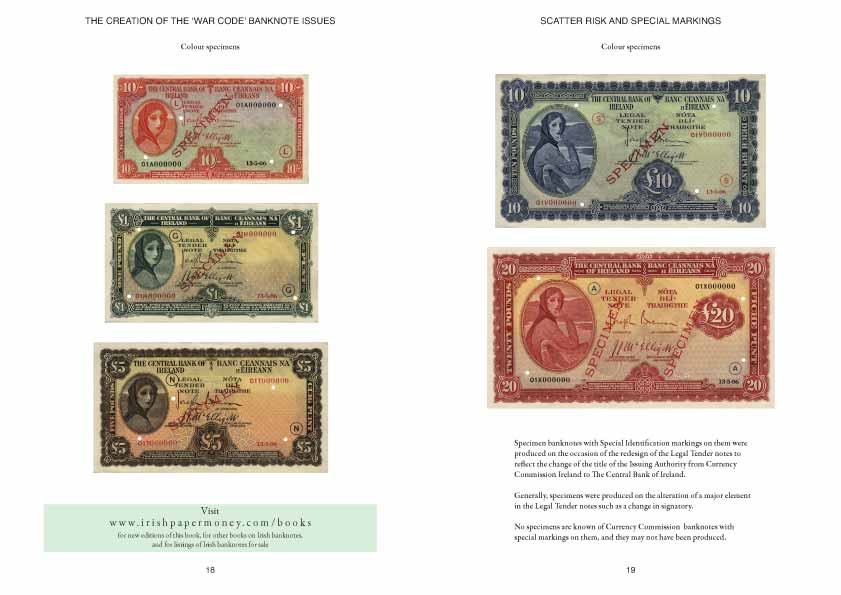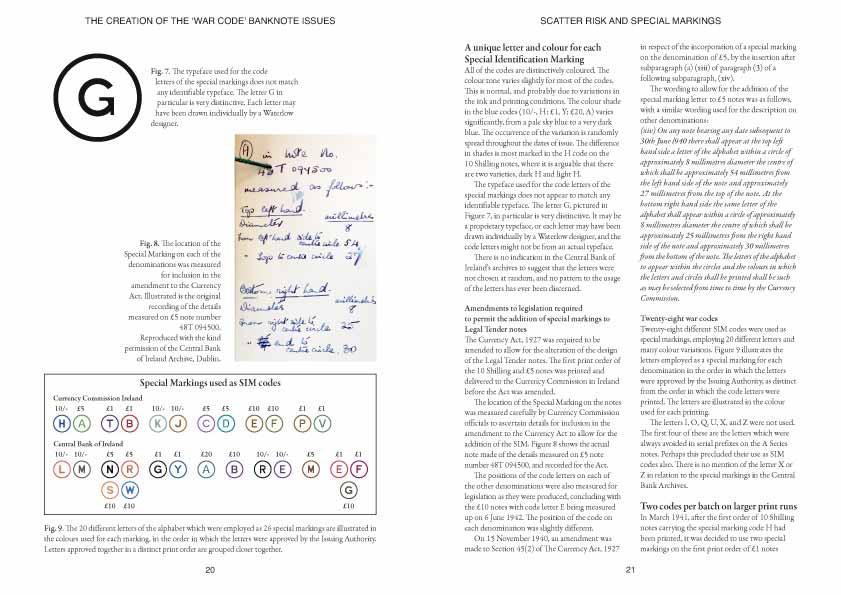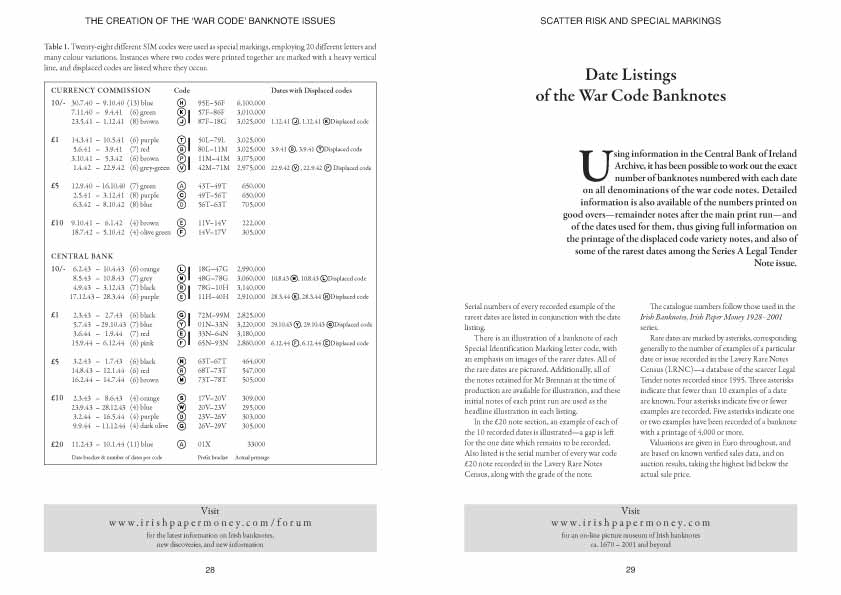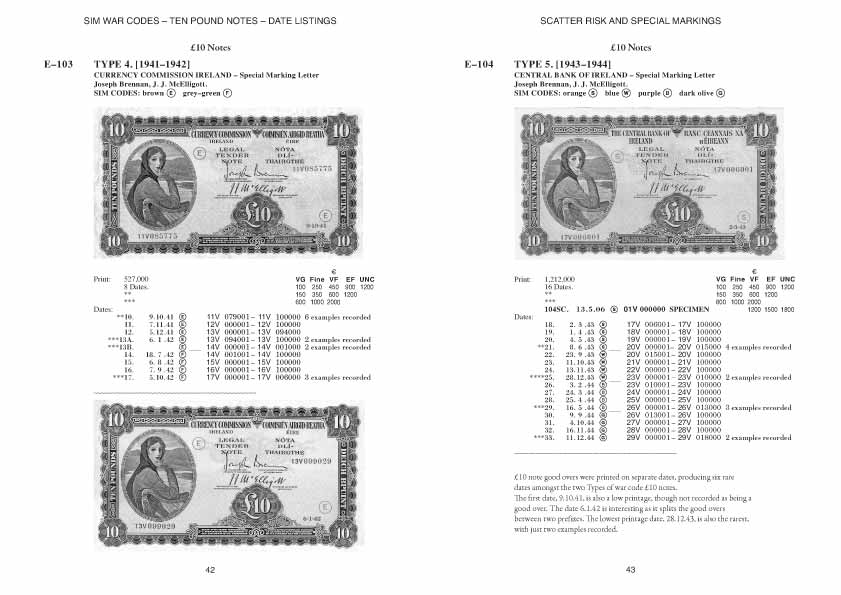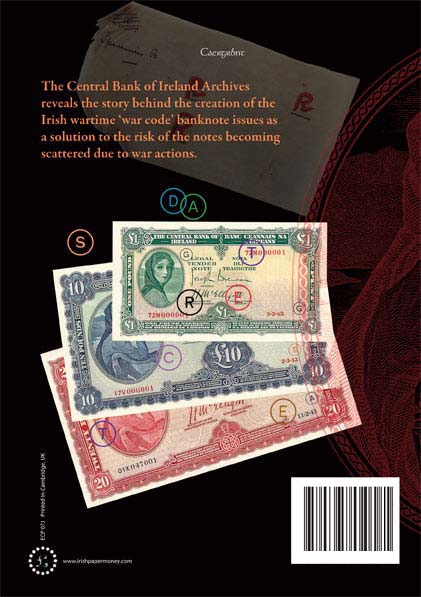 ---