Home < Main Site Map < Irish Banknote Books - Irish Banknotes for Sale - Contact


---
Books on Irish banknotes


Currently available, the new 2020 Fourth Edition of the essential catalogue on Irish Paper Money

Irish Banknotes
Irish Paper Money 1928–2001
by Martan MacDevitt

4th Edition 2020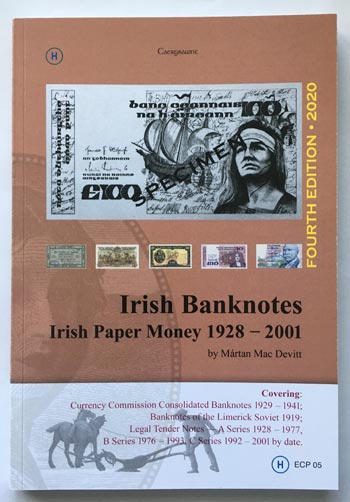 Please send your enquiries to me by email.





Specifications: Card cover, 80 pages, A5 size (210mm x 145mm, 7mm thick), Perfect bound. Black and white throughout with four colour pages.
ISBN-13: 9780954371241. RRP £16.50.


The Fourth Edition of the A5 paperback version is now available. This is the definitive guide and catalogue of modern Irish government Papermoney, a useful guide and essential reference for anyone interested in collecting and learning about the paper money of the Republic of Ireland.
The book covers all the government banknote issues of the Irish Free State and Republic of Ireland, with descriptions, quantities printed, valuations and illustrations.

Consolidated banknotes (Ploughman), 1929-1941;
Series A banknotes (Lavery), 1928-1977;
Series B banknotes, 1976-1993;
Series C banknotes, 1992-2001 (by date);
Limerick Soviet notes, 1919.

Special attention is made to illustrating the rarer note issues.


The 4th edition of Irish Banknotes features:
Revised valuations throughout

, based on market movements. A brief review of the state of the market in Irish note collecting, and of interesting items that have turned up since the third edition.



Series B £100 note added

. The denomination was cancelled unissued around 1985. Recently, information has become available about the notes, including images of the designs. Two different versions of the note design are pictured, one in colour. The note features Grainuaile on the face and the earliest map of Ireland on the reverse, which is illustrated at its actual size.



Over 70 illustrations, with special attention made to illustrating the rarer note issues, and low numbers of early notes.



Rare dates

are listed, as well as printage quantities for all Types and denominations.



The latest progress report on the Ploughman Scan Survey, recording all the Ploughman notes by number, with an updated calculation of the estimated number of surviving Plowman notes based on the amounts outstanding and the amounts recorded in the survey. The Ploughman Scan Survey report also includes a breakdown by bank of actual recorded £1, £5, and £10 notes up to August 2019. (£10,074 face value, 9.57% of the outstanding total amount of £105,250). The reader can make their own estimates of numbers of surviving notes based on these data, and see which notes are the rarest.



Replacement notes

, with a listing the highest and lowest number seen for each date of the Lavery notes and the C Series notes.





Updated information on

Limerick Soviet Notes

since the last edition based on new sightings of notes since 2017.




A colour reference chart of the letters used for the war codes on the World War 2 issues; and colour illustrations of the Mulberry Variety notes.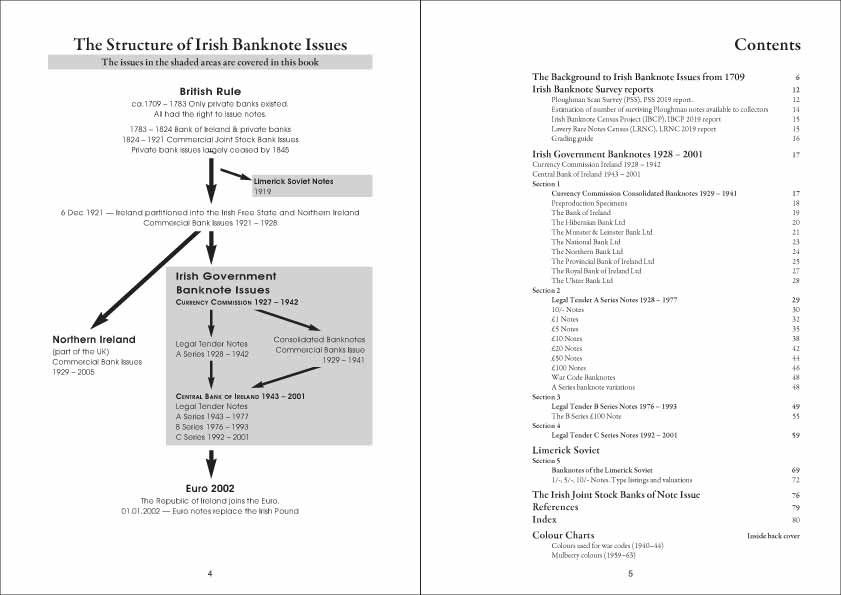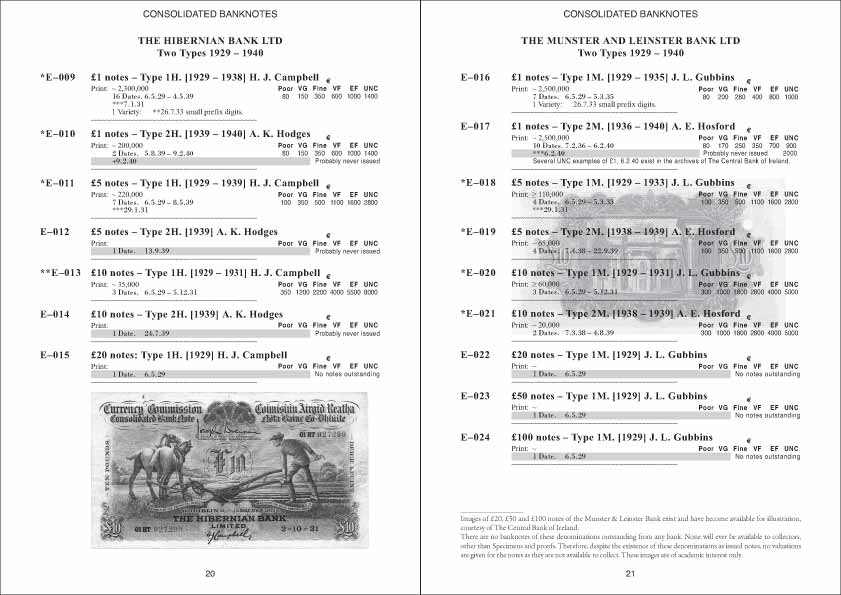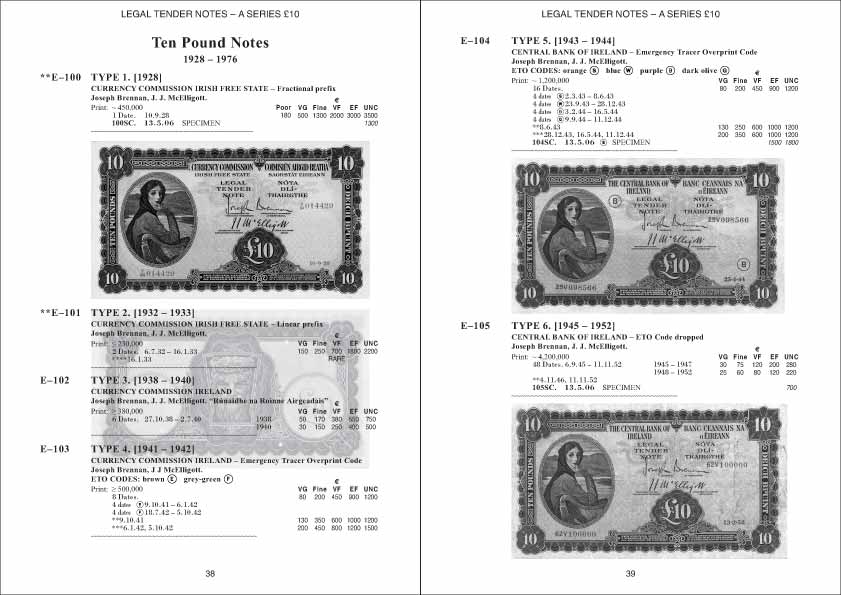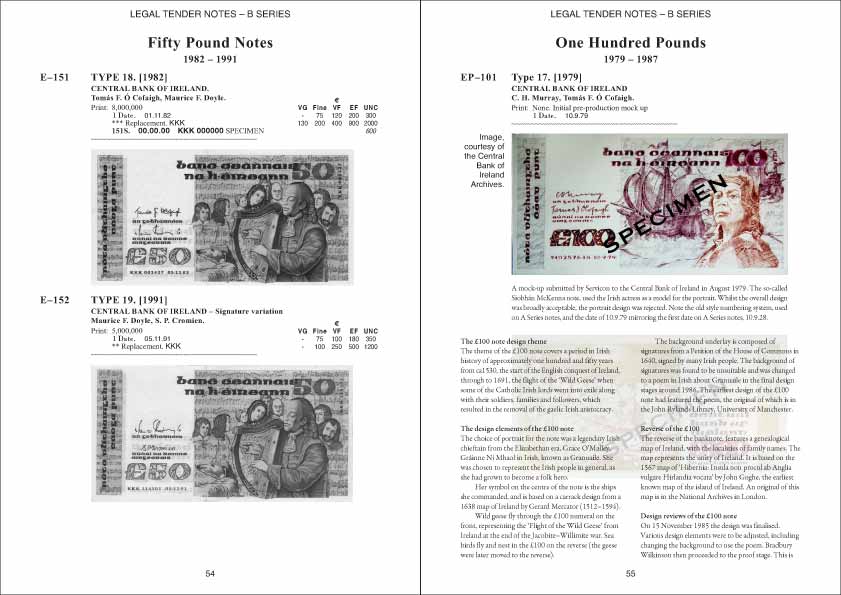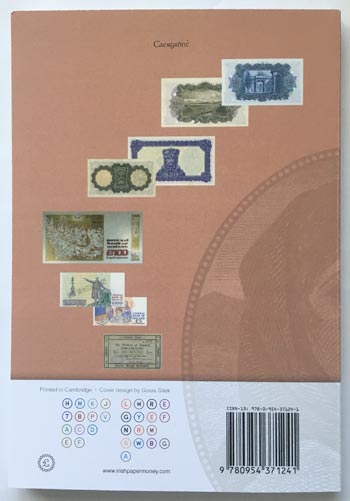 ---