The Limerick Soviet
The
'Limerick Soviet'
is a term given to a general strike in Limerick city from 15 to 27 April 1919, organised by the Limerick Trades and Labour Council, as a protest against the British army's declaration of a "Special Military Area" under the Defence of the Realm Act, which covered most of Limerick city and a part of the county. The soviet ran the city for the period, printed its own money and newspaper and organised the supply of food.
(part taken from wikipedia)
An article on the event is available
here
.
A book on the Limerick Soviet exists, "Forgotten Revolution - The Limerick Soviet 1919" by Liam Cahill.
Limerick Soviet Notes are among the rarest of Irish Notes.
There are three denominations.
I believe the banknotes were first noted in numismatic circles around 1969.
Members are invited to post in this thread pictures of notes they have seen or recorded.
Limerick Soviet One shilling note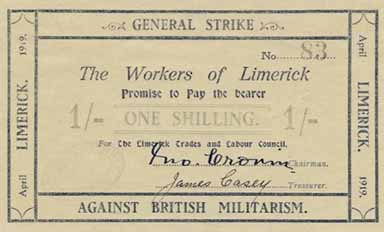 Limerick Soviet Five shilling note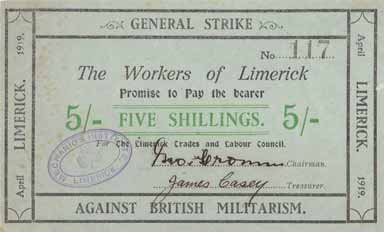 Limerick Soviet Ten shilling note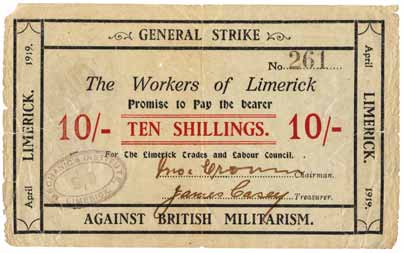 EDIT: Added images.