Kitchener £2 Coin
, commemorating 100 years since the start of the first world war.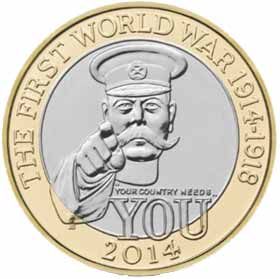 I got a £2 coin with
Kitchener
on it lately. He was of course born in Ireland, we all knew that didn't we. Anyway, it commemorates the centenary of the start of World War 1, known at the time as the 'great war', when everyone who had to fight in it was told that it would be the last war.
His face remains famous from being on the recruitment posters for the war, back before they introduced conscription, I suppose.