Consolidated (Ploughman) Ten Pound Note Valuations.
Updated: June 2016 • Valuations in Euro
Listed below are approximate valuations for Ploughman 10 Pound notes.
The values are based on auction houses, sales online and general market conditions. Valuations will be adjusted and revised on an on-going basis.
Go to:
£1 note valuations
•
£5 note valuations
There is a
banknote grading guide
on the main website.
Relative rarity is indicated by the letter R after the bank name, or the Type. Five Rs is the rarest.
THE BANK OF IRELAND
One Type 1929
£10 notes – Type 1B. [1929] J. A. Gargan • 1 Date. 6.5.29
Poor	VG	Fine	VF	EF	UNC
400	900	1800	2800	4000	8000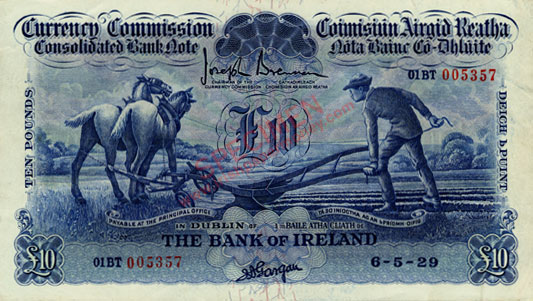 THE HIBERNIAN BANK LTD
Two Types 1929 – 1939
£10 notes – Type 1H. [1929 – 1931] H. J. Campbell • 4 Dates. 6.5.29 – 24.7.39
Poor	VG	Fine	VF	EF	UNC
550	1400	2200	4000	4500	8000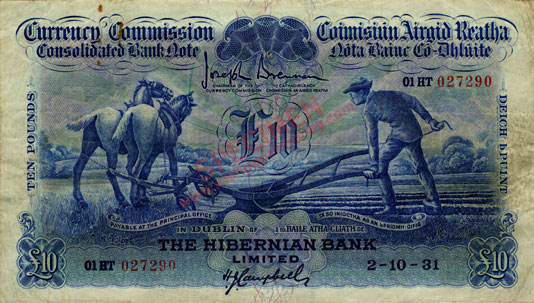 THE MUNSTER AND LEINSTER BANK LTD
Two Types 1929 – 1939
£10 notes – Type 1M. [1929 – 1931] J. L. Gubbins • 3 Dates. – 5.12.31
Poor	VG	Fine	VF	EF	UNC
400	1000	1800	2800	4000	5000
£10 notes – Type 2M. [1938 – 1939] A. E. Hosford • 2 Dates. 7.3.38 – 4.8.39
Poor	VG	Fine	VF	EF	UNC
400	1000	1800	2800	4000	5000
THE NATIONAL BANK LTD
One Type 1929 – 1939
£10 notes – Type 1N. [1929 – 1939] H. A. Russell • 4 Dates. 6.5.29 – 31.7.39
Poor	VG	Fine	VF	EF	UNC
400	1000	1800	2800	4000	5000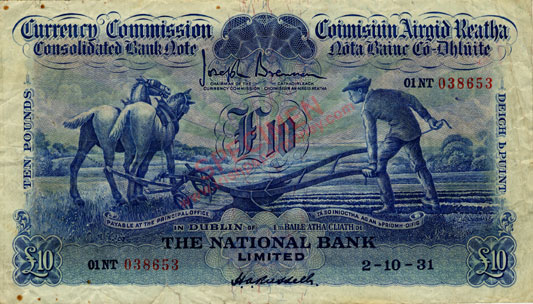 THE NORTHERN BANK LTD
One Type 1929
£10 notes – Type 1E. [1929] S. W. Knox • 1 Date. 6.5.29
Poor	VG	Fine	VF	EF	UNC
2000	10000	18000	25000	–	–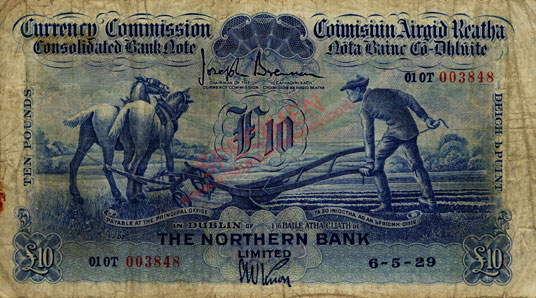 THE PROVINCIAL BANK OF IRELAND LTD
Three Types 1929 – 1931
£10 notes – Type 1P. [1929] Hume Robertson • 1 Date. 6.5.29
Poor	VG	Fine	VF	EF	UNC
350	1100	2500	4000	6500	8000
£10 notes – Type 2P. [1931] F. S. Forde • 1 Date. 2.10.31
Poor	VG	Fine	VF	EF	UNC
250	900	1800	2800	4000	6000
£10 notes – Type 3. [1939] G. A. Kennedy • 1 Date. 17.7.39
RRRR
Poor	VG	Fine	VF	EF	UNC
900	3000	5000	8000	9500	12000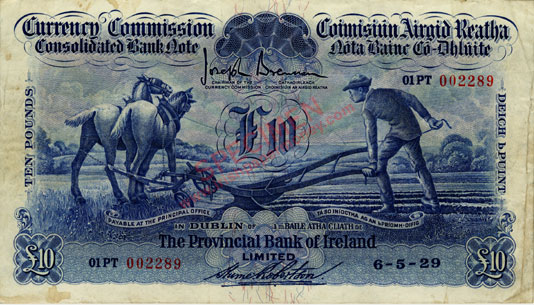 THE ROYAL BANK OF IRELAND LTD
RRR
Three Types 1929
£10 notes – Type 1R. [1929] G. A. Stanley • 1 Date. 6.5.29
Poor	VG	Fine	VF	EF	UNC
900	2200	4000	7000	13000	15000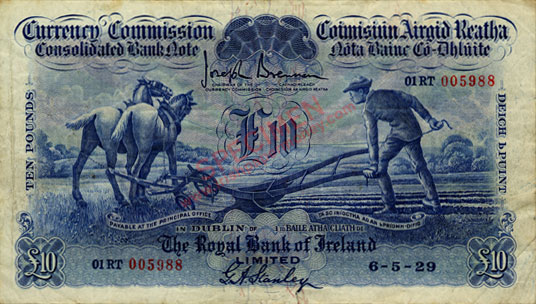 THE ULSTER BANK LTD
RRR
Two Types 1929 – 1939
£10 notes – Type 1U. [1929] C. W. Patton • 1 Date. 6.5.29
Poor	VG	Fine	VF	EF	UNC
800	2200	4000	7000	10000	15000
£10 notes – Type 2U. [1938 – 1939] C. W. Lester • 2 Dates. 4.2.38 – 9.8.39
Poor	VG	Fine	VF	EF	UNC
800	2200	4000	7000	10000	15000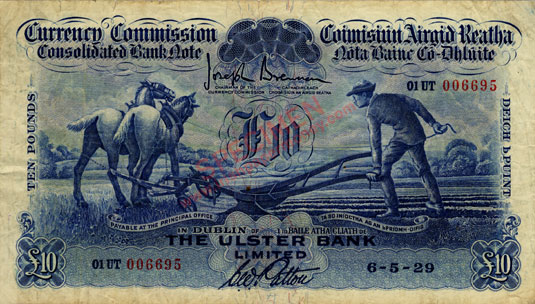 Go to:
£1 note valuations
•
£5 note valuations