The Old Notes section on
Provincial Bank of Ireland notes Series C 1918
,
Provincial Bank of Ireland notes Series D 1919
, and
Provincial Bank of Ireland notes Series E 1920-1927
(Irish Free State era) has been revised, with the addition of new introductory pages, and new images covering every known Type (by signature) and denomination (£1, £5, £50). Other denominations as yet unrecorded are likely in Series E.
Also added is a date gallery,
Provincial Bank of Ireland date listing 1918-1927
with an image of a banknote of each date of issue for all the issued notes. Only £1 notes were issued by the bank in this era. There are proofs and specimens of other denominations pictured also.
One known date remains to be pictured: £1, dated 1 July 1919.
It is unlikely that there are other issued note dates which have not been recorded.
A section on signatures has also been added, which aims to record all signature varieties of the hand signed notes (1918-1921), which cover all three Series.
Submissions of notes with unrecorded signatures are welcome.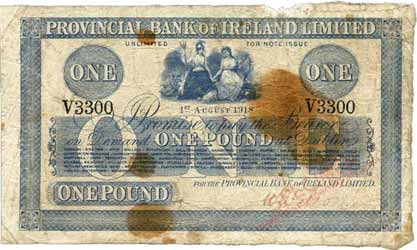 Provincial Bank of Ireland One Pound 1918
, Series C reduced size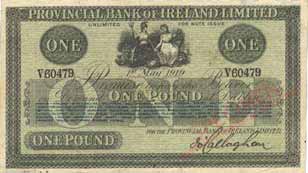 Provincial Bank of Ireland One Pound 1919
, Series D small size with branches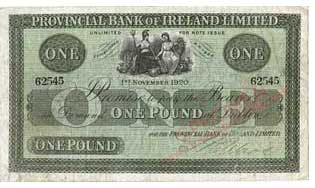 Provincial Bank of Ireland One Pound 1920
, Series E small size without branches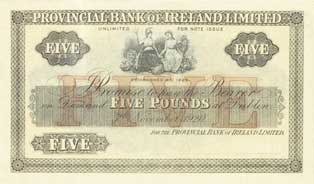 Provincial Bank of Ireland Five Pounds 1920, Series E small size without branches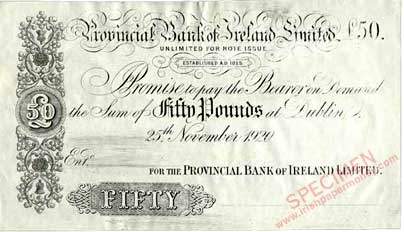 Provincial Bank of Ireland Fifty Pounds 1920