Home < Main Site Map < 300 Years of Irish Currency - Introduction to Irish Paper Money - Irish Joint Stock Banks of Note Issue > Historical Timeline of Irish Currency - 28 Pages

---
300 Years of Irish Currency
Post Bill and Banknote Issues in Ireland

The Structure of Irish Currency Issues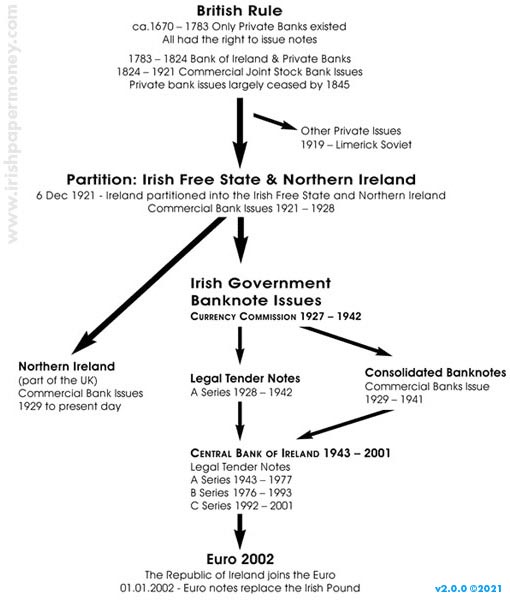 The story of Irish paper currency issues stretches over 300 years from ca1670 to the present, starting with the first usage of paper tokens and receipts as currency, and progressing through to the introduction of the Euro in place of the Irish Pound.

Sterling banknotes continue to be issued in Northern Ireland by three of the Irish joint stock banks.



Early Irish Currency Notes

British rule in Ireland had two distinct eras in terms of currency issue, determined by the Act of Union in 1801, when the Irish Parliament voted to merge with the United Kingdom Parliament, Prior to 1801 Ireland was an independent kingdom with the English monarch as its King or Queen. The Act of Union lead to the Assimilation of Currencies Act 1826 which abolished the Irish Pound and merged it with the British Pound Sterling.

From the viewpoint of the collector, Irish banknote issues can be broken down into several distinct categories.



Currency Issued During the Era of British Rule

The earliest recorded Irish currency issues were by merchants goldsmiths who issued receipts which changed hands as currency. These businesses evolved into small private banks.

Later, from 1824 onwards, the private banks were replaced by larger joint stock banks with many branches which issued notes all over the country.



Private Banks

Irish currency notes in the form of post bills and banknotes were issued by private banks from around 1670 up to 1836. The Irish private banks were small entities with up to six partners, occasionally they had two or three branch offices. Some private banks were simply merchants who occasionally issued promissory notes, such as the Ennis Bank of Peter Blake which started issuing notes as Ennis Tan Yards, or Joseph Carshore in Carrick on Suir.

The latest recorded banknote issue of a private bank is by Ball's Bank in 1837. For various reasons legislation was in place which prevented the formation of large banks or of joint stock companies including banks.

The private banks were joined by the Bank of Ireland in 1783, which was a large private joint stock bank established by Royal Charter which by-passed legislation prohibiting joint stock companies.

Irish note issues are divided into pre-1826 Irish Pound issues and post-1826 British Sterling issues. In many cases 'British' is stated on notes issued within a few years of the currency union.
In addition to banknotes, post bills also circulated as currency, and many banks issued them. Post bill issues seem to have largely died out by the 1820s.


Bank failures and surviving notes
There were many failures among the private banks. Some currency notes, both banknotes and post bills, of failed private banks are relatively common. By far the most common surviving notes are Post bills and banknotes of Ffrench's Tuam Bank, banknotes of Gibbons and Williams which was a late entrant to banking and failed within a few years. Other relatively common notes are those of O'Neill's Bank in Waterford and Roberts and Leslie, Cork Bank, and post bills of Joyce's Bank, Galway.

Many Irish private banks carried out their business in a solid manner and were either closed or merged into other banks. Notes issued by these banks are much scarcer. Pike's Bank in Cork, John Ewing and Co. Belfast Bank are both examples of banks which closed in an orderly manner. La Touche & Company in Dublin and David Gordon and Co., Belfast Bank are two private banks which merged into newly formed joint stock banks.



Irish Joint Stock Banks

Changes to legislation in 1824 allowed the formation of Irish joint stock banks, and the repeal of the Bubble Act in 1825 allowed the formation of public joint stock companies. This lead to the rapid formation and development of six new large banknote issuing joint stock banks in Ireland during the period 1824 to 1837. One of these, Northern Banking Company was created by Hugh Montgomery and Co., converting itself into a private joint stock bank in 1824.

Banknotes issued by the Irish joint stock banks quickly replaced those of the private banks and most of the surviving private banks closed or were merged into the expanding branch networks of the joint stock banks.

By 1836 there were seven note issuing joint stock banks in Ireland, Bank of Ireland, Provincial Bank of Ireland, National Bank of Ireland, Agricultural and Commercial Bank of Ireland, Northern Banking company, Belfast banking Company, and Ulster Banking Company.

Agricultural and Commercial Bank of Ireland failed in 1839, leaving six banks which carried on business into the Twentieth Century.



Irish Independence in 1921 and its Effect on Irish Currency

Ireland was partitioned into the Irish Free State which became independent of the United Kingdom in 1921, and Northern Ireland which remained part of the United Kingdom.

In 1927 the currency in Ireland was partitioned between Northern Ireland and the Irish Free State.

This lead to three issues. Two issues were created in the Irish Free State: Irish government issued Legal Tender Notes in 1928, and Consolidated Bank Notes in 1929, issued by the Irish joint stock banks operating in the Irish Free State, both under the under control of the Currency Commission, a new Issuing Authority. A separate Northern Ireland Issue was created for the joint stock bank issues in Northern Ireland.

The Currency Commission was wound up in 1942 and replaced by the Central Bank of Ireland.



Legal Tender notes 1928 - 1977

Irish Legal Tender banknotes were first issued by the Currency Commission in 1928, and then by the Central Bank of Ireland from 1943.

The Irish currency broke the link with Sterling in 1979 when it joined the ERM. In 2002 the Irish Pound was merged into the Euro and Irish notes were replaced by Euro notes in the Republic of Ireland in 2002. The last date on an Irish notes was 8 March 2001.



Consolidated Bank Notes 1929 - 1941

Eight joint stock retail banks operating in the Irish Free State were granted the right to issue banknotes as part of the Consolidated Bank Note issue in 1929, which replaced their existing note issues. The Consolidated Bank Note issue was terminated when the Central Bank of Ireland was created.



Northern Ireland Issue 1929 - continuing

The six joint stock retail banks which had enjoyed the right of note issue prior to the partition of the Irish currency were granted the right to issue their own notes in Northern Ireland, after withdrawing all of their existing note issues.

The Northern Ireland issue continues to the present day, with three banks still issuing notes, Danske Bank which acquired the Northern Bank, Ulster Bank, and the Bank of Ireland. These three banks introduced polymer notes in 2018.



Local Currency Issues in Ireland

Two private promissory note issues occurred briefly in Ireland in the Twentieth Century, the Treasury Notes of the Limerick Soviet in 1919, and the Roma Local Currency in Ballyhaunis in 1999.




Last update 08.03.22


---