Home < Main Site Map > Banknotes of the Irish Private Banks >
Boyles Bank

---
Banknotes of the Irish Private Banks


Boyle & Co., Dublin
ca1832-1946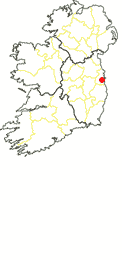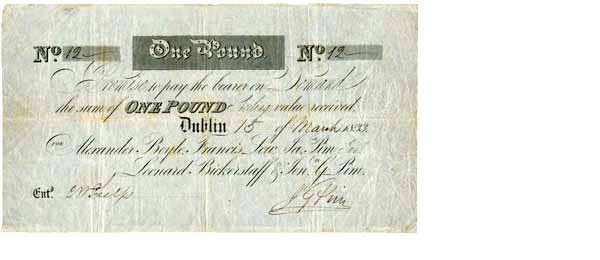 Boyle, Low & Pim - 1 Series, 1 Partnership
A successful late entrant to note-issuing private banking

Boyle's bank was founded sometime in 1832 as Boyle, Low & Pim with three partners, Alexander Boyle, Francis Low, and James Pim (1796-1856). Based at 41 Dame St. in Dublin, it is listed in Watson's Almanack in 1833 for the first time.

It was one of a number of new private banking partnerships which were formed after the advent of joint stock banking in Ireland in 1824. It was unusual for these newly formed private banks to issue notes. Another such bank was Gibbons & Williams which failed in 1835.


Only a single banknote issued by the bank has been seen, and prior to this note becoming available it was believed that the bank had never issued any notes. Little is known about this bank's note issue, and it is likely that the issue was short-lived.


The partnership regarded itself as stockbrokers and bankers' agents rather than as a bank, according to one of its founding partners, James Pim in 1838.


Boyle & Co. were agents in Dublin for the Northern Banking Company, and English agents for the Provincial Bank of Ireland whereby they exchanged English Pounds for Irish Pounds for that bank. They also did a lot of business in Bank of England post bills, and their own brief note issue was denominated in Pounds Sterling.


They acted as paying agents for the Ulster Banking Company in Dublin for a brief period in 1836.


In 1840 the firm moved to new premises in 35 College Green, Dublin. Boyle's was described then as public notaries, stockbrokers and insurance agents, having moved away from banking.


Alexander Boyle continued as lead partner until 1869, the last reference to him being in the 1870 edition of Thom's Directory of Ireland. The company continued in business as Boyle, Low, Murray & Co. until 1946.

Boyle & Co. Bank Note issues
The only information known about the note issues of Boyle's Bank comes from the single recorded example of its banknotes. A Boyle's Bank One Pound note was sold by Spink auctions in London in April 2016.

An interesting feature of the only note known for this bank is the presence of the partner names on the note. In 1833, it was no longer a legal requirement for a private bank to list its partners on its notes. By contrast, Gibbons & Williams and Mallow Bank did not list the partners' names on their notes at this time.



One Series of notes seen for Boyle & Co.
There is one Series of banknotes known by design, and one Type by partnership. Other partnerships are known for Boyle's Bank, but they are unlikely to have issued notes.

Series 1. 1833. Denominations recorded: £1.

One Type by partnership.
Type A. ca1833. Alexander Boyle, Francis Low, James Pim, Leonard Bickerstaff and Jonathan Greenwood Pim.


Series 1. Type A

References
1. Biographical detail on James Pim, Dublin businessman and banker.
<https://www.dib.ie/biography/pim-james-a7347>
2. Auction Catalogue, Spink, London. British and World Banknotes, 12, 13, 14 April, 2016.



---