Home < Main Site Map > Banknotes of the Irish Private Banks >
Denis Moylan, Cork

---
Banknotes of the Irish Private Banks


Moylan's Bank, Cork


1813-1814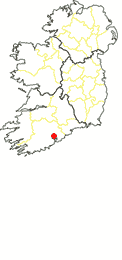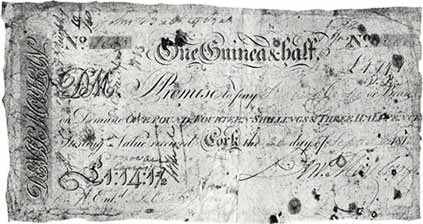 Denis Moylan - 1 Series, 1 Sole Partner
A merchant with a brief banking career

Relatively little is known of Denis Moylan's bank, except that it issued banknotes in 1813. According to O'Kelly (1959), the Moylans were well respected businessman in Cork.

O'Kelly notes that there appears to be no record of registration for this bank, and that it is not listed in Watson's Almanac, or mentioned in any contemporary newspapers. Registration was not a requirement for banks at that time, and other note-issuing entitles also operated without registering as bankers.

Note issuers who went unregistered tended to not be banks, but were more in the line of businesses engaged in buying and selling which issued notes in payment for goods which were then redeemed shortly thereafter.

There is no mention on the notes of the business as being a bank, unlike other Cork notes of the time which have 'Cork Bank' as their principal heading. In the case of Denis Moylan's notes, the denomination of the note is its principal heading


The bank's symbol, or 'logo' was made up of Denis Moylan's initials, DM, in ornate script. His name in full is printed sideways on the left in upper case script, a standard design feature of many private banker's notes of the era.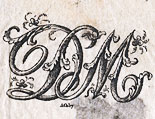 Moylan's Bank Closure 1814

Moylan's bank closed in 1814 after only a year or so of operation. There is no information available as to the circumstances surrounding its closure.

This bank appears to have been a one man operation, likely an example of a merchant who engaged in note issue for a time, and then discontinued. Kenny and Turner (2019) list it as having 'Failed' in 1814, though other evidence detailed following tends to not support this.

As there is no mention of Moylans in regard to legal actions, an orderly closure rather than a failure would be more plausible. He may simply have stopped issuing notes.

It seems that Denis Moylan was a merchant who at one time received the honour of 'Freeman of Cork City'. The list of Freemen of Cork 1710-1741 includes a Denis Moylan, listed as a Merchant, and a Denis Creagh Moylan, listed as Gentleman as having both received the honour. These two are likely Denis the banker and his son youngest son Denis Creagh Moylan who studied Law and went on to become a Midland circuit judge of the county court for the district of Westminster, London.

The Freedom of Cork is a significant honour, and suggests that the family was held in high esteem in the community. It also supports the supposition that Denis Moylan stopped issuing notes and exited banking without bankruptcy, and settled any debts in full.

The two banknotes pictured are signed Denis Moylan and by J. C. Moylan, likely John Creagh Moylan a middle son of Denis Moylan, who died in 1824 at the age of 39. Denis Moylan the banker died in October 1832, aged 72.



Denis Moylan Note issues

Two banknotes have been seen, illustrated below. Reference is made by O'Kelly to another example of a note in a Cork museum. No examples of post bills have been seen, and it is unlikely that the Moylans made use of them in their business.

Both known banknotes carry the printer's name Ashby, London-based printers which also printed notes of other Irish issuers.

Denominations recorded: 1.5G, 3.5G.
Printers: Abbey. The printer's mark can be seen below the DM symbol on the notes.


Series 1. Type A


Denis Moylan, One Guinea and a Half, 30th September 1813
The note is signed by Denis Moylan. The entered signature is indistinct. This note is denominated in Guineas and in its equivalent in Irish currency, £1, 14s, 11⁄2d.



Denis Moylan, Three Guineas and a Half, 30th September 1813
The banknote is entered by J. C. Moylan, likely to be John Creagh Moylan, a son of Denis Moylan. The main signature on this note is indistinct. This note is denominated only in Guineas without its equivalent in Irish currency.



References
O'Kelly, E. (1959). The Old Private Banks and Bankers of Munster. Cork: Cork University Press, p. 96.
Kenny, S., Turner, J. D. (December 2019). "Wildcat bankers or political failure? The Irish financial pantomime, 1797–1826", European Review of Economic History 24(4).
Young, D. (1975). The Private Banks & Their Notes. Denis Moylan of Cork 1813, Irish Numismatics No. 43, Jan-Feb 1975, p17-18.
Alphabetical List of Freemen of the City of Cork, from 31 October 1710, to 25 October 1841.
Information on the Moylan family background.






www.irishpapermoney.com Version 3.0.1 Last update COPYRIGHT ©2000, 2009, 2015, 2021, M Mac Devitt. Reproduction with citation permitted.