Home < Main Site Map > Banknotes of the Irish Private Banks >
Findlay's Bank, Dublin

---
Banknotes of the Irish Private Banks


Findlay's Bank, Dublin
1754-1829 closed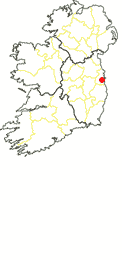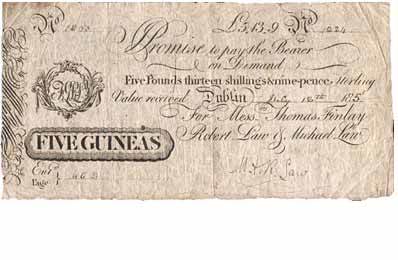 Finlay's Bank - 1 Series, 4 Partnerships
Findlay's Bank - A solid Dublin bank

At the time of its closure Finlay & Company were one of the oldest banks in Dublin. The bank was founded around the time of the failure of Dillon and Co. in the 1754 crisis which caused the collapse of many Dublin banks. Findlay's first operated from a premesis at Jervis Quay, Dublin. In 1767 its address changed to12 Upper Ormond Quay, Dublin. In 1804 the bank relocated to 21 Jervis Street, Dublin.


The senior partnership in the bank passed from Thomas Finlay to his son John in 1778.

Many of the partners of the bank were well connected in Dublin society, politics and banking. Robert Law was a director of the Bank of Ireland during his tenure as a partner in Finlay's. More detailed information on the background of Finlay's bank and its partners can be found in Irish Numismatics, No 51, May-June 1976.



Finlay's Bank Note issues

Finlay's Bank is reputed to have been a significant issuer of banknotes over its long history but today its notes are scarce, particularly in issued form. The reason for this may be due to the orderly wind down of its operation in 1829 with full payment of issued notes outstanding.

The bank's note issue in the early 1800s was modest in comparison to that of other private banks of the era, with a reported issue of £33,461 in the year ending 25 March 1800, rising steadily to £67,700 in the year ending 5 Jan 1804. The bank tended to favour the issue of higher denomination notes until in 1803 it started issuing significant quantities of notes in low denominations under 3 Guineas.

Findlay's ceased issuing notes in 1826.


One Series of notes seen for Finlay's Bank
There is one Series by design and four Types by partnership. Other series and partnerships are likely.

Four Types by partnership.
Type A. 1754-1773. Thomas Finlay, Arthur Jones Nevill, Benjamin Greale, John Hunt.
Type B. 1773-1778. Thomas Finlay, Richard Nevill, Benjamin Greale, John Hunt.
Type C. 1778-ca1816. John Finlay, Richard Nevill, Joseph Lynman, John Geale, John Lynman.
Type D. ca1816-1829. Thomas Finlay (Jr), Robert Law, Michael Law.

Denominations recorded: 5 Guineas, £5, £10, £20. Others likely.


Series 1, Type C


Series 1, Type D

The date on this note is indistinct, with the numeral 5 added by hand. The serial number on the note is 1224


References
Young, D. (May-June 1976). 'The Private Banks and Their Notes, Finlay & Co., Dublin. 1754-1829', Irish Numismatics Magazine, No. 51, pp101-103.


---