Home < Main Site Map > Banknotes of the Irish Private Banks >
Pike's Bank, Cork

---
Banknotes of the Irish Private Banks


Pike's Bank, Cork
1770-1826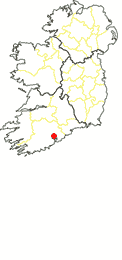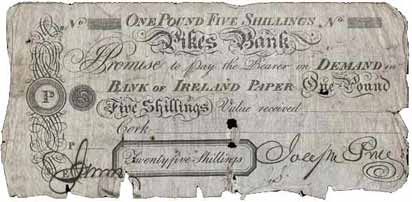 Pike's Bank - 2 Series, 5 Partnerships
An old Cork Bank

Pike's were a Quaker banking family in Cork. Pike's Bank, Hoare's Lane, North Main Street, Cork was a continuation of the business of Hoare's bank, established in 1675 and one of the oldest banks in Ireland [3]. There is a more-or-less unbroken line between its foundation by Edward Hoare, and its its orderly closure in 1826 after the death of Joseph Pike.

The bank survived a politically inspired run in 1812 [1. Barrow, 1975, p. 208]. In the crisis of 1820 there were runs on all of the all of the banks in Cork. Pikes had the resources to survive the crisis and remain open, and after the collapse of Roche's Cork Bank and Leslie's Cork Bank during the crisis, Pike's was the only remaining bank in the city [2. O'Kelly, 1959, p. 42]. Another smaller note-issuing bank, that of Dennis Moylan had ceased operating around 1814, probably in an orderly closure.


The bank's symbol, or 'logo' used various designs of the letter P on the later notes which have been seen.


Pike's Bank Closure 1826

Pike's bank closed in 1826 after the apparent sudden death of Joseph Pike on 28 February 1826. Its assets were lodged with the newly opened Bank of Ireland branch, and all creditors were paid in full [5]. Thus, joint stock banking replaced private banking in Cork.


Pike's Bank Cork Currency Note Issues

Little is known of the bank's note issues, and banknotes issued by Pike's bank are rare. All known banknotes were printed uniface. Dating and numbering was carried out by hand. It is likely that the bank issued notes throughout its existence and that there were many other series. No examples of post bills have been seen.

Records [6. 1804 Report, Appendices D. to H, pp. 147-149] show that in 1800 Pike's Bank did not pay any stamp duty on notes; 1801, stamp duty was paid on 5,000 notes above 3 Guineas and under £10 in face value, and on 3,200 notes under £50; 1802, duty on 108,000 notes under 3 Guineas, 2,000 under £10, and 100 under £50; 1803, duty on 69,000 notes under 3 Guineas; 1804 the bank paid duty on 64,100 notes under 3 Guineas, and duty on 100 notes under £50 in face value. These figures suggest a substantial banking operation.

The figures also show a move towards smaller denomination notes at the expense of larger denominations. Additionally, it can be seen that Pike's Bank issued no notes in the year that Joseph Pike took to running the operation as sole partner, 1800.



Two Series of notes seen for Pike's Bank
There are two Series of banknotes known for the Bank by design, and five Types by partnership. Other series of notes are highly likely to have existed.

Five Types by partnership known [3].
Type A. 1770-1780 Ebenezer Pike, Samuel Pike, John Pim.
Type B. 1780-1785 Ebenezer Pike, Samuel Pike.
Type C. ca1785-ca1796 Samuel Pike, Richard Pike.
Type D. ca1796-1800. Joseph Pike, Richard Pike.
Type E. 1800-1826. Joseph Pike.

Denominations known: 3s 91⁄2d, £1, 25 Shillings, 30 Shillings, £2, £3, £5, £10, £20.


Records show that in 1803 the bank paid duty on 64,100 notes under 3 Guineas in face value, suggesting a substantial banking operation.

Series 1. Type E


Series 2. Type E

References
1. Barrow, G. L. (1975). The Emergence of the Irish Banking System 1820-1845, Gill & Macmillan.
2. O'Kelly, E. (1959). The Old Private Banks and Bankers of Munster. Cork: Cork University Press.
3. Mullan, A., The Pike Family's Involvement in Cork's Finances.
4. Dictionary of Irish Biography, Ebenezer Pike and some of the partners in Pike's Bank.
5. An account of the death of Joseph Pike, banker, as reported in the Cork Constitution newspaper, 7 Feb, 1829. Note, this account of the newspaper report incorrectly states Joseph pike's death as being in 1829.
6. Report, Minutes of Evidence, and Appendix, from the Committee on the Circulating Paper, the Specie, and the Current Coin of Ireland; and also, on the Exchange between that Part of the United Kingdom and Great Britain [May and June 1804], House of Commons, 1826. https://search.library.ucdavis.edu/discovery/fulldisplay/alma9981091734103126/01UCD_INST:UCD
8. Auction Catalogue, Noonan's (DNW), London. British and World Paper Money, 31 March 2011.



---