Home < Main Site Map > Banknotes of the Irish Private Banks >
Thomas Dillon and Co. Dublin

---
Banknotes of the Irish Private Banks


Dillon and Co. Dublin


1736–1754 failed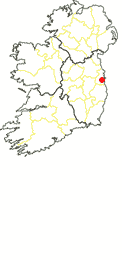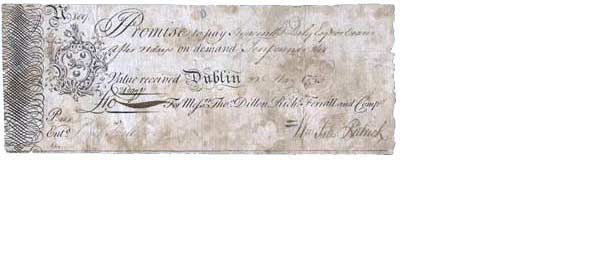 Thomas Dillon and Co. - 1 Series, 3 partnerships
A Catholic Dublin bank

Dillon's Bank was the only Catholic bank in Ireland at the time of its foundation. Thomas Dillon became lead partner of Dillon and Co. in 1736 taking over the Dublin-based bank from his father Theobald. Richard Ferrall, Thomas Dillon's brother-in-law, joined as a second partner in 1748.



Dillon's Bank Failure 1854

The bank failed on 6 March 1754 in a crisis that wiped out most of the Private Banks operating at the time in Dublin. Both partners fled to France to escape the consequences.

The resolution of the bank's debts dragged on well past its time of closure. Illustrated below is a notice to creditors of a meeting being called for 14th Dec 1861 in Essex St, Dublin to appoint a committee of creditors to pursue the recovery of 'considerable sums of money (particularly in Foreign Parts) still due to the bank'.

A bill in the Irish Parliament, College Green, in February 1764 for the relief of the bank's creditors was rejected by the Irish Privy Council.

Dillon's Bank Note issues
One Series of notes seen
There is one Series known for banknotes issued by Dillon and Company, and three Types by partnership.

Three Types by partnership.
Type A. Theobald Dillon
Type B. 1736. Thomas Dillon
Type C. 1748. Thomas Dillon, Rich Ferrall.

Denominations recorded: £10.




Thomas Dillon and Co. 10 Pounds sight bill 22 May 1753. Type C. This is one of the earliest known surviving Irish banknotes

Sight notes, or sight bills are very similar in nature to post bills, in that they promise to pay after a certain period. In the case of the sight note, payment is promised on a certain stated time period after the note is presented for payment. With a post bill, the payment is on demand after the date stated on the bill. Both instruments of payment were intended to guard against robbery.




A letterpress notice 'to the creditors of Thomas Dillon and Richard Ferrall, late bankers in Dublin' printed by James Pue in Skinner-Row, Dublin 1761

www.irishpapermoney.com Version 3.0.1 Last update COPYRIGHT ©2000, 2009, 2015, 2021, M Mac Devitt. Reproduction with citation permitted.