Main Page < Northern Ireland Issue < Bank of Ireland < Series I 1929-58 - Date listings > Old Banknotes 1922 Series H


---
The Bank of Ireland

Series I 1929-1958 First Northern Ireland Issue
Bank of Ireland Belfast Issue
New Northern Ireland Issue 1929

The Bank of Ireland's first Northern Ireland Issue of 1929 used the same designs as those used in its 1922 all-Ireland Series H, except that the place of payment was altered to 'Belfast Donegal Place' instead of 'Dublin'. Serial numbers were restarted for Series I. This series remained in use for over thirty years.



Five Types for Bank of Ireland notes 1929-1958
There are two design varieties and four signature variations for Series I banknotes, giving five basic Types.

One Pound note underprint design changed from green to blue on the face and reverse, halfway through the print run of £1 notes dated 9 March 1936.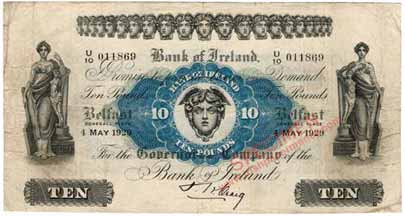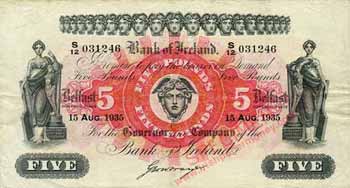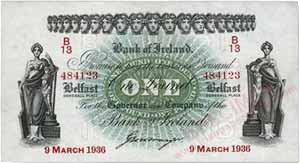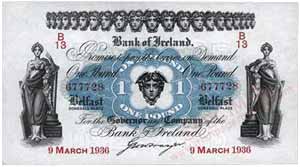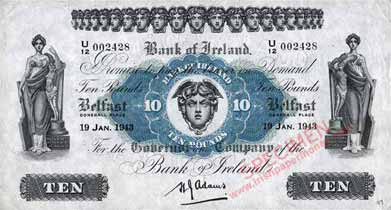 Dimensions
BI–1. £1 notes [1929-1943] Prefix starts anew at B10. 150 x 85 mm approx.

BI–2. £5 notes [1929-1958] Prefix starts anew at S10. 175 x 95 mm approx.

BI–3. £10 notes [1929-1943] Prefix starts anew at U10. 195 x 105 mm approx.

BI–4. £20 notes [1929] Prefix starts anew at X10. 205 x 108 mm approx.


All the dates have been recorded for Series I: £1 Notes, 12 dates; £5 Notes, 17 dates; £10 Notes, 4 dates. Examples of all the recorded dates for Series I can be viewed in the Bank of Ireland date listing 1929-1958.