Home < Main Site Map < Old Banknotes >
Agricultural and Commercial Bank - Bank of Ireland - Belfast Bank - Hibernian Bank - National Bank - Northern Bank - Provincial Bank - Ulster Bank

---
All-Ireland Banknotes - Belfast Banking Company
1827-1920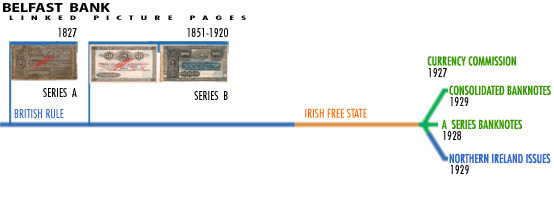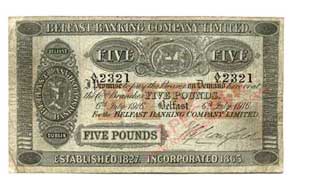 Belfast Bank, Two Series: Series A 1827 - Series B 1851

Series C, Northern Ireland Issue, commencing 1922.



The Belfast Banking Company
1827-1970
Irish Joint Stock Banks of Note Issue, 1824 Act
The 1824 Act allowed the creation of Joint Stock banks of note issue in Ireland with the right to issue notes outside of a 50 mile radius of Dublin, with Bank of Ireland retaining a monopoly on note issue within that radius. Prior to this the only joint stock bank in Ireland had been the Bank of Ireland, which had been established as a private joint stock bank by Royal Charter in 1783 and had sole right of note issue for a bank with greater than 6 partners.

Over the next decade six joint stock banks were formed in addition to Bank of Ireland. Two of these, The Belfast Banking Company and the Northern Banking Company were formed by converting existing private banks into joint stock banks.



A Merger of two Belfast Private Banks into a Joint Stock Bank

The Belfast Banking Co. was formed with 337 shareholders on 2 July 1827, by a merger of the then two remaining private banks in Belfast, Batt's (The Belfast Bank, in business since 1808) and Tennant's (Belfast Commercial Bank). It was organised on similar lines to the Northern Banking Company and commenced business on 1 August 1827.



Belfast, Dublin Issue

The Belfast Banking Co. remained mostly an 'Ulster' bank, and had relatively few branches outside the Province. It did not open an office in Dublin until 1892, after which Dublin was added as a principal office of payment in addition to Belfast on all its notes.

Banknotes of denominations 25 Shillings, 30 Shillings, £1, £2, £5, £10, £20, £50, £100 were issued. Of these, no £100 notes have been recorded except in proof form, and a single £50 note has been seen, dated 1917. £1 and £10 notes are the most commonly offered denominations. The banknotes are generally scarce.


Post-1921 and Northern Ireland
In 1917 its share capital was sold to the London Joint City and Midland Bank Ltd. In 1923 the bank sold to the Royal Bank of Ireland the 20 branches which it had in the newly-formed Irish Free State. Thus the bank became the only one of the Irish Joint Stock banks to operate solely in Northern Ireland. A new series of banknotes was produced in 1922 for issue in Northern Ireland only.

In 1965 The Northern Bank was taken over by the Midland Bank, which already owned the Belfast Bank. The Belfast was then merged into the Northern in 1970.