Main Site Map < Old Banknotes < Northern Bank >
Series A 1825 < Series B 1850 < Series C 1920 < Series D 1921 - Date listings > Series E 1929 Overprints

---
Northern Banking Co. Series D

1921-1927
Northern Bank General Issue with branches removed
Small size £1 notes introduced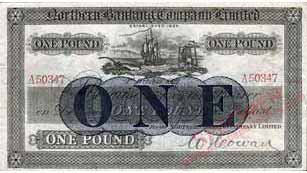 The Banknotes (Ireland) Act 1920 removed the requirement of banks to make payment on their notes at the branch of issue, stated on the note, as well as at the head office. The requirement to state the branch of payment on a note had lead to all the branches being stated on every note. In the 1918-1920 period the transition of Irish currency to more modern designs was underway, with all the banks reducing the size of their One Pound notes.

The 1920 Act lead to the development of a new Northern Bank series of banknotes with branches removed, which first appeared in 1921 as an issue of small size £1 notes. The design was broadly similar to Series B Type D in the case of the £5 denomination, and similar to Series B Type C in the case of £10 and £20 notes.

The Northern was slow to adopt smaller size banknotes, probably not issuing any reduced or small size issues prior to the removal of bank branch listings in 1921, although the bank did develop a series of reduced or small size notes in 1920 with all the branches branches listed, Series C. However, these may never have even been printed before the 1920 Act became law.

Northern Bank small size notes were of a similar size to those of the Provincial Bank of Ireland, measuring 145 x 80 mm. Other denominations remained large size, except for the £5 denomination which was replaced by a small size note dated 1927 late in the series.

Series D £5, £10, and £20 notes were printed. £10 and £20 notes were not issued, and were used with an overprint for the first Northern Ireland Issue



Northern Bank £5 notes small size 1927

Small size £5 notes were developed and introduced in 1927, just before the partition of Irish currencies lead to the 1929 Northern Ireland Issue.



Series D. 1921-1927. New design. Two Types

Banknotes printed on both sides. Head Office Belfast, Dublin omitted.

There are two Types by major design variation for Series D banknotes, as listed below.

Type A, large size (1921-1926); and Type B, small size (1921-1927).
Type A: £5 (1921-1926), £10 (1921), £20 (1921). £10 and £20 notes only exist with 1929 Northern Ireland overprints, Series E.
Type B1, hand signed: £1 (1921-1923), £5 (1927).
Type B2, printed signatures (1924-1927): £1 (1924-1927).


Type A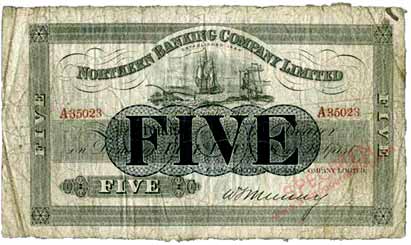 Type B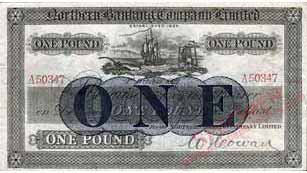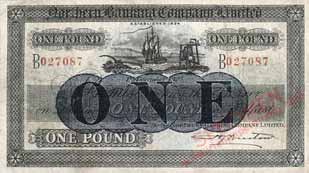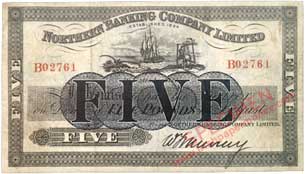 Banknotes by date

An image of every date of each denomination of Series D, and each known signature is in the Northern Bank Series D 1921-1927 Date Listings section: £1 Notes, 11 dates; £5 Notes, 4 dates.



---