Main Site Map < Old Banknotes < Provincial Bank <
Series A 1825 < Series B 1871 > Series C 1918 > Series D 1919 > Series E 1920

---
Provincial Bank of Ireland Series B

1871-1919 General Issue, Bank Branches Listed
Provincial Bank Multibranch General Issue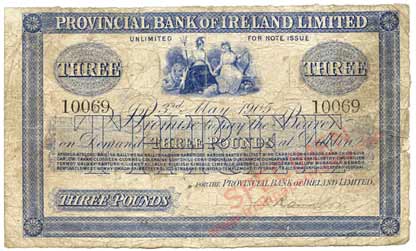 Many Provincial banknotes prior to ca.1900 were split down the middle for transportation as separate halves for security reasons, and later rejoined. It is likely that on being rejoined the notes would have had their serial numbers rematched, as the number of a banknote is an important security device.

A large quantity of cut-cancelled half notes turned up around 1970. It would appear that most of the split and rejoined notes extant are those that had been previously cut-cancelled and then rejoined ca.1970 for collecting purposes to make up examples of the notes. These cancelled rejoined notes with mismatching serial numbers quite common.

A considerable number of cut up and joined notes have had their serial numbers interfered with so that they appear to match. Some rejoined notes consist of several peices. A great many cancelled banknotes exist.

Intact unsplit non-cancelled notes with dates prior to ca1905 are rare, as are split rejoined non-cancelled notes with matching serial numbers. Most of the surviving issued notes are intact. This would overwhelmingly point towards the splitting of notes as being a device of cancellation rather than one of transportation. A lot of Specimens and Proofs are also available.



Series B. 1871-1918. Three Types of Provincial Bank notes by design variation

Large sized banknotes. Uniface. All branches of the bank listed in four lines in the centre of each note (£1, £3, £50, £100), or in two columns on the left and right sides of each banknote (£5, £10, £20). Head Office DUBLIN.
Sizable quantities of printer's Specimens and Proofs exist of many banknotes of this Series.
£50 and £100 notes are of a different design, being plainer with the bust of the Monarch on the left.

There are three Types by major design variation for Series B banknotes.

Type A. 1871. Provincial Bank of Ireland
"Unlimited for Note Issue" added.


Banknote colour changed to blue on £1, £3, £5, £10, £20 denominations.

Various numbers of extra branches added. The following combinations are known.
The extra branches are periodically integrated into the main block.
1. ca.1915 BUNDORAN.
2. ca.1914-1916 BUNDORAN, KILKEEL, KILMALLOCK, KILKEE, SCHULL.
3. ca.1917 BUNDORAN, KILKEEL, KILMALLOCK, KILKEE, SCHULL, CASTLEWELLAN.
4. ca.1917 CASTLEWELLAN.
5. ca.1918 ATHY, PORTADOWN, CASTLETOWN, BEREHAVEN, FETHARD, CASTLEISLAND, KILMACTHOMAS, CASTLEWELLAN.



Type A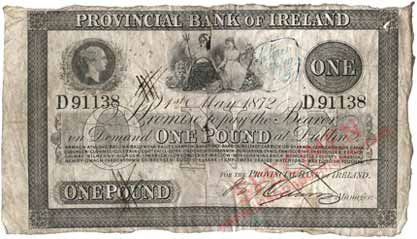 Type B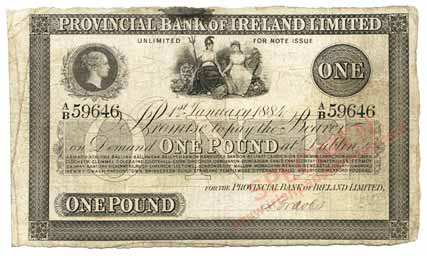 Type C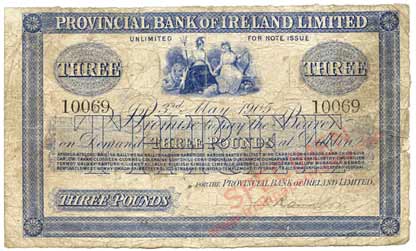 ---