Main Site Map < Old Banknotes < Provincial Bank <
Series A 1825 < Series B 1871 < Series C 1918 < Series D 1919 < Series E 1920 - Date listings

---
Provincial Bank of Ireland Series E

1920-1927, Branches Removed
Provincial Bank General Issue With Branches Removed

The Provincial Bank issued its first banknotes without branch listings as a result of the Banknotes (Ireland) Act 1920 which repealed an 1828 Act requiring a bank to list the branch of issue on its notes. The first date on the branchless small size £1 notes was 1 November 1920. These notes were also the first of the bank to be printed on the reverse as the bank modernised its note designs during the general transition of Irish currency designs in the 1918-1929 period.

The printed area of Series E £1 notes was similar to that on 1919 Series D notes. The design also remained similar, except for the central panel, which was altered considerably to be made flatter creating more space in the signature panel and for the number box. Also, the two denomination roundels were moved outwards slightly to facilitate the addition of the script 'ESTABLISHED A.D. 1825'.



Series E. 1920-1927. New design printed on both sides. Two Types

There are two main Types in Series E: Type A, (1920-1921) hand signed; Type B (1922-1927), printed signature of Hume Robertson, hand-signed notes (Type A) and those with printed signatures of Hume Robertson. Size: printed area, 149 x 81 mm; paper size approximately 160 x 90 mm. Only £1 notes have been recorded in issued form. Proofs, and cancelled unissued £1 and £5 notes are common. Additionally, a £50 proof exists. Other denominations have not been seen as yet.

Provincial Bank of Ireland Series E banknotes were a short-lived design as the partition of Irish currency into separate Northern Ireland and Irish Free State issues lead the bank to redesign its notes entirely for its Northern Ireland Issue in 1929.

Type A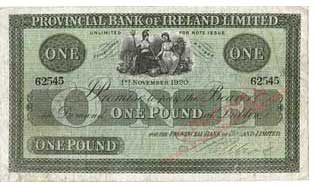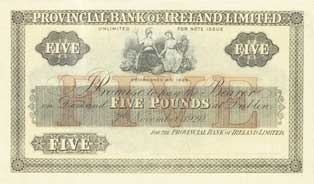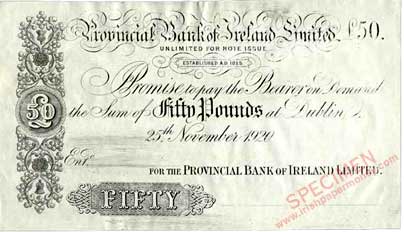 Type B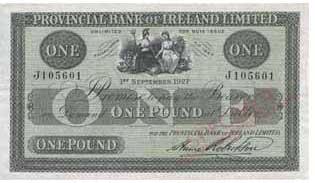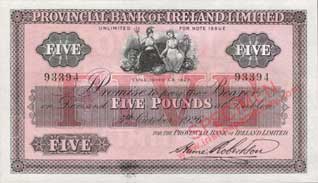 An image of all known dates of Series C, D and E is in Provincial Bank of Ireland 1918-1927 Date Listings: Series D £1 Notes, 11 dates.