Home < Main Site Map < Old Banknotes >
Agricultural and Commercial Bank - Bank of Ireland - Belfast Bank - Hibernian Bank - National Bank - Northern Bank - Provincial Bank - Ulster Bank

---
All-Ireland Banknotes - Ulster Bank
1836-1928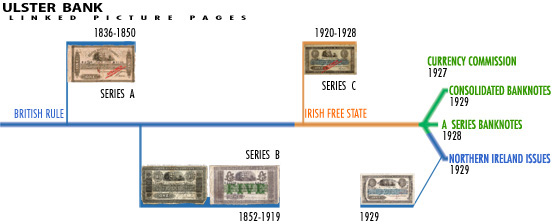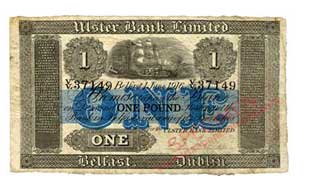 Ulster Bank, Three Series: Series A 1836 - Series B 1852 - Series C 1920

Series D 1929, Northern Ireland overprints. Series E, Northern Ireland Issue, commencing 1929



The Ulster Bank Ltd
1836
Irish Joint Stock Banks of Note Issue, 1824 Act
The 1824 Act allowed the creation of Joint Stock banks of note issue in Ireland with the right to issue notes outside of a 50 mile radius of Dublin, with Bank of Ireland retaining a monopoly on note issue within that radius. Prior to this the only joint stock bank in Ireland had been the Bank of Ireland, which had been established as a private joint stock bank by Royal Charter in 1783 and had sole right of note issue for a bank with greater than 6 partners.



The Ulster Banking Company

The Ulster Banking Company was founded on 22 February 1836 as a result of a meeting in Belfast to open a National Bank branch. The bank was established on 1 April 1836 with approximately 830 shareholders. It was to have started business on 1 June 1836, which is the date on its first banknotes. Final arrangements had not been completed, however, and the bank did not start to operate until 1 July 1836.



Ulster Bank, Belfast and Dublin Issue

The Ulster Banking Co. opened an office in Dublin in 1862, and changed its name to The Ulster Bank Ltd. on 1 September 1883. In 1917 the bank's share capital was bought up by the London County and Westminster Bank Ltd. The Ulster Bank continued to be a part of The National Westminster Bank Group which was taken over by the Royal Bank of Scotland Group in 2000, but retains its Ulster Bank identity in Ireland.

It issued the full range of Consolidated Banknotes in 1929, as well as its own Northern Ireland issue. The bank continues to issue banknotes in Northern Ireland.