Home < Main Site Map < B Series Banknotes - Introduction >
Specimen Notes - View by Type - View by Denomination - View by Date - Series B 100 Pounds

---
Legal Tender Notes, Series B
Irish Writers, Philosophers and Artists
Central Bank of Ireland, 1976 - 1993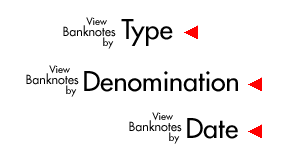 Page under active revision, last update 20.01.22


Celtic Design Irish Banknotes
Five Types, by Signature. Five Denominations

In December 1971 the Central Bank of Ireland announced its intention to introduce a new series of Legal Tender Notes. The new series, termed the B Series, was to replace the A Series notes circulating since 1928, and was to be of a more modern design and format.

The first of the new B Series notes to enter circulation was the £5 note in 1976. The series was completed with the introduction of the £50 note on November 5th 1991, which is the actual date of issue on the note.

The B Series banknotes have a specifically Irish historical flavour. The series is based on historic and cultural themes ranging from the pre-Christian era to the twentieth century, centering on writers, philosophers and artists.

B Series notes continued the established practice of each note bearing a date of issue. The notes use a prefix of three letters, composed from the first 12 letters of the alphabet. Replacement notes are identified by a prefix of three letters the same, as follows: One Pound notes - BBB, DDD, GGG; Five Pound notes - AAA, FFF; Ten Pound notes - CCC, HHH; Twenty Pound notes - EEE, LLL; Fifty Pound notes - KKK.

A design pattern was done for a £100 denomination, but it was not required by the Central Bank of Ireland. The A Series £100 notes remained in circulation.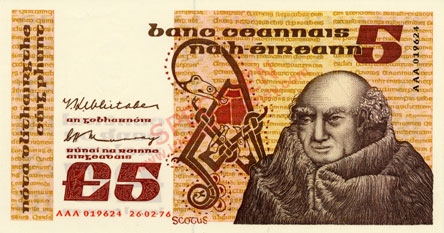 Linked Picture Pages
Central Bank of Ireland Series B Specimen notes
View by Type - Five Types of Legal Tender Notes by signature and design variation.
View by Denomination - An example of each denomination for every Type.
View by Date - An image of every date for which an example has been seen of each denomination.



Central Bank of Ireland B Series banknotes: Dimensions in millimetres

Note: the dimensions tended to vary by a millimetre or so, depending on the cut.

£1 Note, 148 x 78 mm; £5 Note, 156 x 82 mm;

£10 Note, 164 x 86 mm; £20 Note, 172 x 90 mm;

£50 Note, 180 x 94 mm.

£100 Note, 188 x 98 mm. The £100 denomination was never issued. The design reached an advanced stage before being cancelled. Images can be viewed on the page covering the design of the Series B 100 note featuring Grainuaile.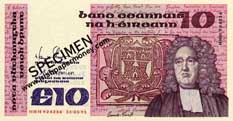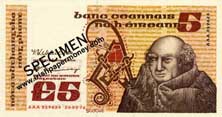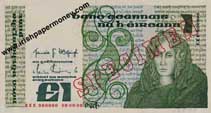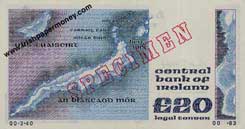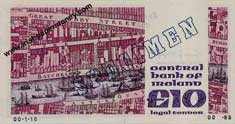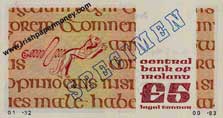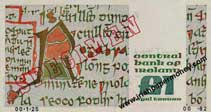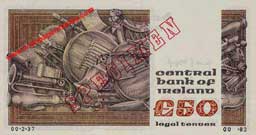 ---