Main Site Map - Skeletal site Map - History of Irish Paper Money Issues - Books - About Ireland - Irish Banknotes for sale
---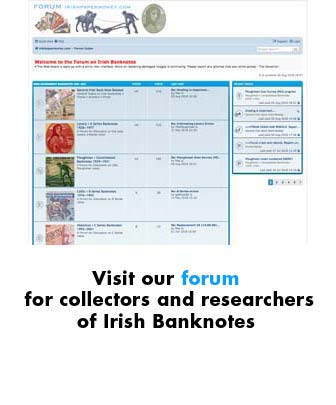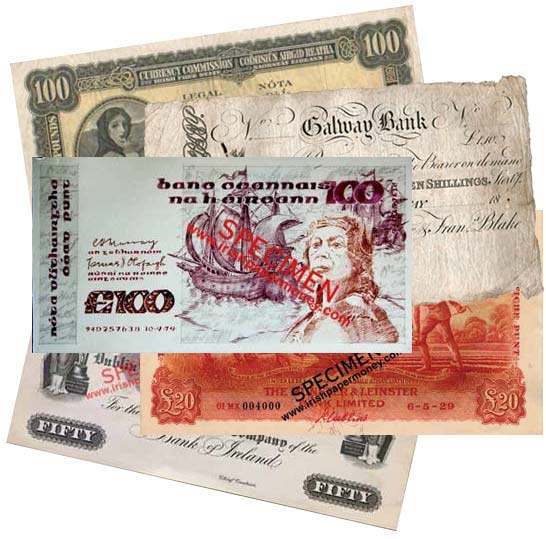 ---
Irishpapermoney.com, the web's oldest resource on the paper money of Ireland

Website last updated: 12.05.2021. New stuff is being added all the time.

Welcome to irishpapermoney.com, the internet's oldest resource on Irish banknotes, live since mid-2000. Our web site aims to be a source of information for collectors from around the world of Irish currency notes, with hundreds of images of all series of Irish banknotes. It also presents interesting and new information for collectors through the attached discussion forum.

Occasional lists Irish Banknotes for Sale are available.

Consume the latest news on the Irish Paper Money Feed.



Latest Additions to irishpapermoney.com

Extra banknote pictures are being added constantly, as they are scavenged from the web.
Please submit missing dates and images via the forum, or by email.


18.04.21

: Added three more banks to the section on Irish Private Banks

Ennis Banks, The silver Banks, O'Neill's Bank, Waterford. This expands the number of banks covered to 22. Banks are being added on an on-going basis.

Major additions of new sections are listed on the updates and contents page



Initially this section covers all known types of A Series Lavery specimen notes. It will be expanded to include specimen notes of B Series and C Series notes, and also Lavery notes produced as De La Rue specimens.



This is a major addition to the site, and has been in preparation for some years. It draws on the expanding section in the forum that deals with the Private Banks, whose paper currency issues circulated in Ireland from ca1670 up to ca1836.

Private banks were limited to 6 partners or less and merchants were prohibited from engaging in banking. This made for small underfunded banks and a relatively weak banking system. The private banks were replaced by joint stock banks once the latter were permitted by legislation.

There were well over a hundred note-issuing private banks. Almost all of them failed due to being poorly capitalised A few of the surviving private banks were wound up and closed in an orderly manner, or merged into newly formed joint stock banks in the 1820s and 1830s.

One of the private banks, The Northern Bank, converted itself into The Northern Banking Company, a private joint stock bank in 1824.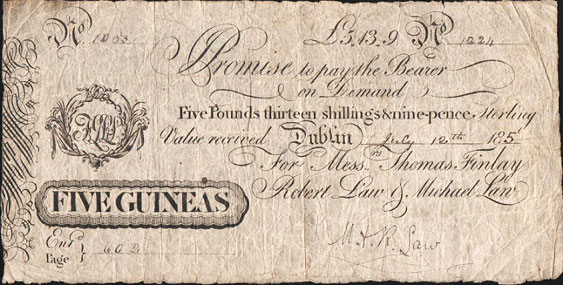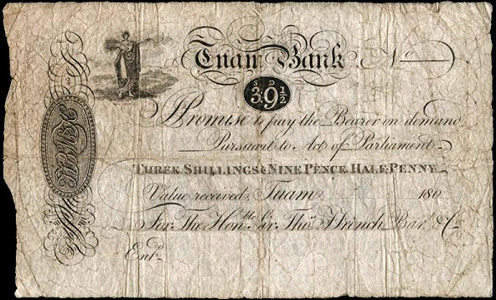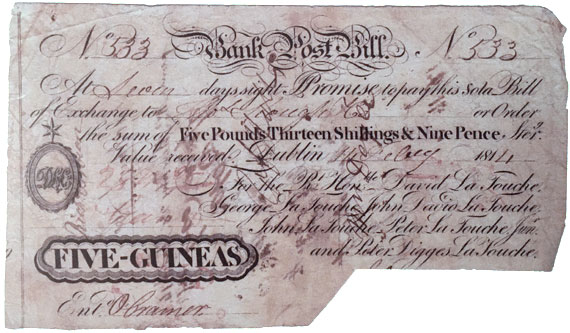 The RoMa tokens were a local currency which circulated in Ballyhaunis, Co. Mayo for two months in 1999 on a trial basis.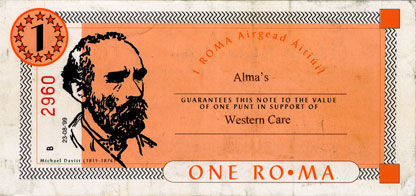 Type specimens of these denominations of Bank of Ireland Series H notes have been known to numismatics since 1972. Good quality images of the notes became available recently, and are now added to the Series H 1922 section. These images were one of the few important denominations known to exist which were still missing from irishpapermoney.com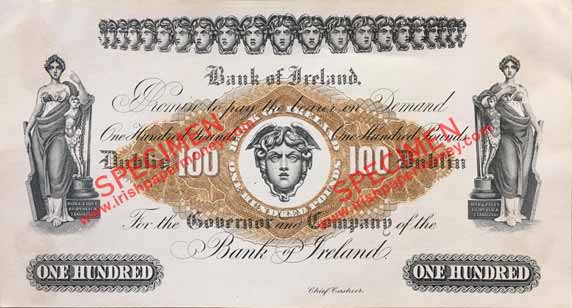 Central Bank of Ireland Series B £100 note

Pictures have become available from the Central Bank of Ireland archive of the face and reverse of the first design mock-up of the Irish Series B £100 note, produced in 1979. Added details of the B Series 100 Pounds Granuaile, with pictures of the note design.

The date is interesting, 10.9.79, a nod from the designers to the first date of the A Series notes. This mock-up was submitted by Servicon to the Central Bank of Ireland in August 1979. The so-called Siobhán McKenna note, which used the Irish actress as a model for the portrait. Note the old style numbering system, used on A Series notes.

Whilst the overall design was broadly acceptable, the portrait design was rejected.

The map of Ireland on the reverse is based on the earliest known example of a map of the island, dating from 1567.
There will be more on these to follow. More pictures and updates are on the B Series section of the Irish papermoney forum.



Central Bank of Ireland 100 Pounds Series B. Images courtesy of the Central Bank of Ireland Archives
Latest additions of significant banknotes to Irishpapermoney.com

15.11.19: Old Notes, pre-partition all-Ireland issues of the Joint Stock Banks
A complete revision of the entire section 1783–1918 has been completed and gone live. This includes the addition of several hundred new images. The upgrade of the Old Notes section is now complete, with the addition of a comprehensive set of images which covers the entirety of the pre-independence banknote issues of Ireland.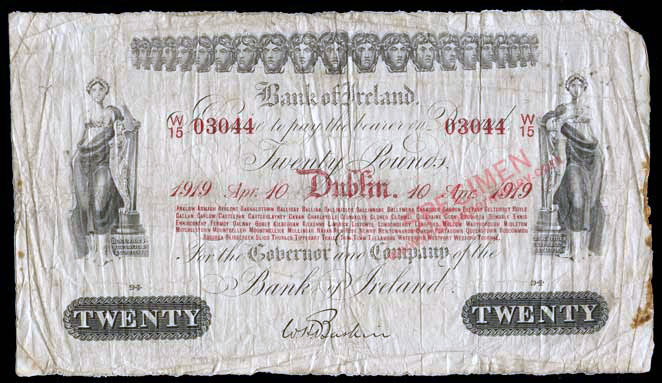 Bank of Ireland 20 Pounds, 10 April 1919, the last date seen for a pre-1929 Bank of Ireland Twenty Pound note
News about Irish Banknotes
Polymer banknotes circulating in Northern Ireland

Bank of Ireland, Danske Bank and Ulster Bank Polymer banknotes have entered circulation in Northern Ireland.

Denominations issued are as follows: Danske Bank, £10, £20 notes; Ulster Bank, £5, £10, £20 notes; Bank of Ireland, £5, £10, £20 notes.

Replacement notes of the new Polymer notes are added on the Polymer Notes forum thread as they are reported.
ZZ replacement notes have been seen for the new Danske Bank £10 note. They mark a new series as previously YY had been the prefix in use for replacements of this denomination.

ZZ replacements have been seen for both Bank of Ireland denominations. The replacement prefix continues from the previous series. The Bank of Ireland regards the new polymer note designs as being part of its current Bushmills series.

First Trust Bank (part of AIB) has decided to cease issuing banknotes.



The Ploughman Scan Survey (PSS) is a census of surviving Currency Commission Ploughman notes

The PSS survey aims to record all surviving Consolidated Bank Notes, by saving an image of each one. One aim is to establish the relative rarities of different issues with respect to each other. Another aim is to build up a knowledge base of the grades of surviving notes.

This is the first survey of its kind carried out on Irish currency notes. With over 3700 notes recorded so far, over £10,000 face value, it amounts to greater than 9.75% of the total value of Ploughman notes outstanding. Results and updates are presented in the Ploughman notes forum attached to irishpapermoney.com. The PSS survey has been underway for over 15 years, and is building up a useful database on the Consolidated Ploughman notes.

Detailed results are published periodically.



A Ploughman note. The Northern Bank Knox signature One Pound is one of the rarer notes of this series
Books on Irish Banknotes
My current books on Irish bank notes are available directly. I produce a regular soft cover catalogue of Irish notes, "Irish Banknotes, Irish Papermoney 1928–2001", which is updated approximately once every three years.



Collecting Paper Money of Ireland

The Structure of Irish Paper Money Issues is briefly as follows: banknotes of the Irish Private banks (ca1670-1836), issued by small banks of six partners or less; Old Notes (1783-1928), issued by the Joint stock commercial banks; Currency Commission and Central Bank of Ireland Legal Tender Notes (Irish Government issue, 1928-2001), and Consolidated Bank Notes (Ploughman notes, issued by the commercial banks, 1929-1941); Northern Ireland notes (issued by the commercial banks, 1929-present day).


Structure and History of Irish Currency issues

The web site site main page links to all the Series of paper money of Ireland, and a pictorial history of Irish currencies which shows the progression of issues of Joint stock commercial banks from 1670 through to modern era Government issues and Northern Ireland issues.


Dates on Irish banknotes

One of the more interesting things about Irish banknotes is that every note has a date on it. This gives collectors a lot of extra scope for planning their collections. The reason for the dates is security, with each date corresponding to a particular prefix or group of prefixes. Irishpapermoney.com aims to presents an image of every date of each of the banknote series.

The Lavery Legal Tender Notes (the A Series) are widely regarded as being one of the great world series of banknotes, being issued more or less unchanged for nearly 70 years, from 1928 to 1977.

In addition to these, the Ploughman series (1929-1941) is also an attractive and highly sought-after note issue. Both series fall within the interest of Commonwealth collectors.

During the second world war a special marking was added to Legal Tender notes, of a letter in a circle, creating an interesting variation to the basic design, the war code notes.



Lady Lavery One Pound note, Legal Tender Note, A Series
Buying and Selling Old Irish Banknotes, Valuation and Grading

I am always interested in buying old Irish notes, both for my own collection and to resell. I occasionally have Irish bank notes for sale by mail order.

I am happy to give valuations of old Irish bank notes free of charge whether or not they may be for sale. Do feel free to email me, or to post a valuation request on the forum. There is also background information on recent auction sales and values on the forum.

Before selling your old notes, you are always best advised to get several quotes, and estimates of their value. You may decide that you prefer to put your old notes into an auction, or sell them on-line. Be aware of the fees that are charged for these services.

If you are valuing them yourself using a catalogue, or on-line resource, then you should become familiar with grading the condition of the notes. A general guide to grading is also on this web site, using old Ten Shilling notes as examples.

Some old Irish notes can be very valuable, for example, those dated 1928; or some of the war code notes (1940-1944); and some series are generally of significant value, such as the Ploughman notes. Detailed current valuations for Ploughman notes in the forum are kept up to date. Some of the rarer Irish notes are very valuable.



The Modern Irish Currency 1928–2001

At the time of the establishment of the Irish Free State there already existed a sophisticated banking system throughout the island of Ireland, which utilised the English Pound Sterling as a currency in various different forms. Sterling had been Legal Tender in Ireland since 1826. Before this, there had been an Irish Pound which was separate from the Pound Sterling, and had had a different value to it.

During British rule a great variety of banknotes circulated in Ireland from about 1709 onwards. Currency stability had been attained by the time of the Bankers (Ireland) Act, 1845, which built on earlier acts and regulated the issue of paper money in Ireland. Banknotes then were issued by six commercial banks under license from and control of the Bank of England. English currency circulated also.


Banking Commission 1926 and Currency Commission 1927

After Irish independence in 1921 the need for a distinctive Irish currency and an authority to control it became apparent.

A Banking Commission was appointed on 8 March 1926 by the Minister for Finance to study the matter. The Banking Commission recommended the establishment of a new currency, the Saorstat Pound, linked at parity to British Sterling, and an issuing authority, the Currency Commission to oversee the new note issue. The Irish Pound was divided into 20 shillings, and issued in seven denominations, 10 Shillings, £1, £5, £10, £20, £50, and £100.

The currency circulating in Ireland changed radically with the provisions of the 1927 Currency Act.

The Currency Commission was created and commenced the issue of Irish Legal Tender Notes in 1928 (this became known as the Lady Lavery series). In 1929 the Associated (commercial banks) Banks' issues in the island of Ireland split into Consolidated Banknotes (based on the Federal Reserve system in the US) controlled by the Currency Commission in the Irish Free State, and a new Belfast issue in Northern Ireland.


Central Bank of Ireland 1943

In 1943 the Currency Commission was dissolved and replaced by a new regulatory authority, The Central Bank of Ireland with increased powers. This was on the findings of a report by a second Banking Commission in 1938. The Central Bank Act, 1942 established the The Central Bank of Ireland in place of the Currency Commission and provided for the withdrawal of the right of note issue from the commercial banks, leaving the Legal Tender Notes the only notes issued in Ireland.

With parity of value between Sterling and the Irish Pound, Northern Ireland notes and Bank of England notes always continued to circulate in the Irish Free State and later the Republic of Ireland, though the notes of the Currency Commission and later the Central Bank of Ireland did not circulate in Britain or Northern Ireland.


Euro 2002
This system continued up until Ireland became part of the ERM in 1979, breaking the link with Sterling. Ireland went on to be a founding member of the Euro zone in 2002, which lead to the replacement of the Irish Pound in circulation by the Euro. The last Irish note to be issued was a £50 note, dated 8 March, 2001.





Primary Sections on irishpapermoney.com
A Series (Lavery) - B Series - C Series - Ploughman Notes - Old pre-partition notes - Northern Ireland Notes - Replacement Notes and Errors - World War 2 issues - Variations in Irish Notes - Limerick Soviet - Ballykinlar Tokens - Historical Timeline of Irish Banknotes - About Ireland - Irish Banknote Book - Grading Guide - Current News and Forum




---
Main Site Map - Skeletal site Map - History of Irish Paper Money Issues - Books - About Ireland - Irish Banknotes for sale



www.irishpapermoney.com Version 3.0.0 Last update COPYRIGHT ©2000, 2009, 2015, 2021, M Mac Devitt. Reproduction with citation permitted.