Home < Main Site Map > Banknotes of the Irish Private Banks >
Hugh Montgomery and Co. The Northern Bank

---
Banknotes of the Irish Private Banks


Hugh Montgomery and Co. The Northern Bank
1809-1824 converted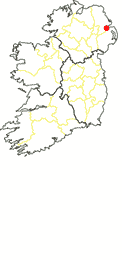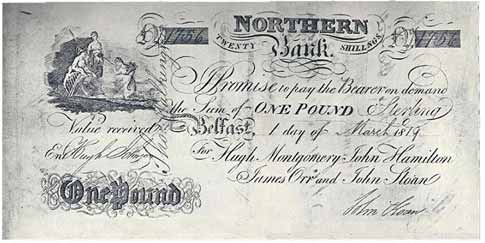 The Northern Bank - 2 Series, 3 Partnerships
Montgomery's Bank

Hugh Montgomery established The Northern Bank on 1st June 1809 with partners John Hamilton, James Orr and John Sloan.

John Hamilton had been a partner in the earlier Belfast-based private bank of John Ewing and Co. which had closed in an orderly manner in 1797 after a prosperous decade in business.

The Northern Bank went through two partnership changes with James Orr taking over as lead partner upon the retirement of Hugh Montgomery in 1820. The bank was known both as 'The Northern Bank' and as 'Montgomery's'.



Northern Bank 1824 Conversion to a Joint Stock Bank

The Northern Bank converted itself into The Northern Banking Company in 1824, the first joint stock bank in Ireland, and began to issue its first new banknotes in 1825.



Montgomery's Bank Note issues
Montgommery's Bank became an important note-issuing bank in the north east of Ireland in the early 1800s. Together with the two other banks established in Belfast around the same time, Tennant's Bank (est.1809) and Gordon's Bank (est.1808), the notes of Montgomery's replaced gold coin in circulation. All notes were denominated in Sterling.

Banknotes of Montgomery's Bank are very rare.

Two Series of notes known for Montgomery's
There appear to be two Series by design, although this may prove to be three when more examples of One Pound notes become available for study.

Series 1. Denominations recorded: £1, 30 Shillings, £2.

Series 2. Design modified. Denominations recorded: 30 Shillings.

Three Types by partnership.

Type A. Hugh Montgomery, John Hamilton, James Orr, John Sloan (1809-1820)
Type B. James Orr, John Sloan, John McCance, Hugh Montgomery Jnr. (1820-1824)
Type C. James Orr, John McCance, Hugh Montgomery Jnr., John McNeile (1824).

Denominations recorded: £1, 30 Shillings, £2 notes recorded.


Series 1, Type A


Series 1, Type B


Series 2, Type C

References
1. Young, D. (Nov-Dec, 1974). "The Private Banks and Their Notes, The Northern Bank Montgomery 1809-1824", Irish Numismatics Magazine, No. 42. pp. 217-220.

2. Hill, E. D., (1924). The Northern Banking Company Limited an Historical Sketch Commemorating a Century of Banking in Ireland By the First Joint - Stock Bank Established in That Country 1824-1924. Northern Banking Company, Belfast.


---