Home < Main Site Map > Banknotes of the Irish Private Banks >
William Tennent and Co. Belfast Commercial Bank

---
Banknotes of the Irish Private Banks


William Tennent and Co. Belfast Commercial Bank
1809-1827 merged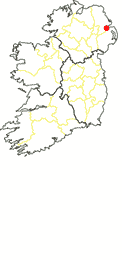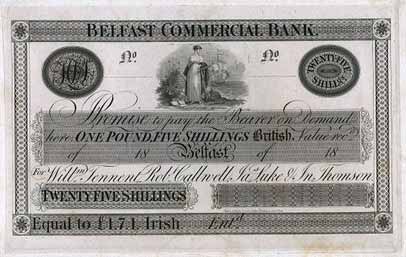 Belfast Commercial Bank - 3 Series, 4 Partnerships
Tennent's Bank

The Belfast Commercial Bank was established on 1st June 1809 [Young 1981]. The original partners were William Tennent (1759-1832), Robert Callwell, Robert Bradshaw, John Cunningham, John Thompson and John Stewart.

Prior to entering banking, William Tennent was a successful businessman in Belfast, and joined the Belfast Chamber of Commerce in 1783. He was also a leading member of the Society of United Irishmen, and had spent some time in prision in Scotland having been arrested just prior to 1798 rebellion. Tennent was released in January 1802 and returned to Belfast.

He resumed his business career which included starting the bank in 1809. Tennent was also involved with the Belfast Academical Institution in 1810, which sought to provide affordable access to education for the less well off including women. He eventually became one of the city's wealthiest businessmen.


1827 Merger with Batt's Bank to form Belfast Banking Company
In keeping with the solid banking traditions of Belfast, established by earlier banks such as Ewing's Belfast Bank which had closed in an orderly manner in 1797 after a prosperous decade in business, Tennent's business had been well run. It was wound up by means of a merger after some sixteen years in business.

Tennent's Bank went through a number of partnership changes before merging with the Belfast Bank of Narcissus Batt & Co. (formerly David Gordon & Co.) on 1 August 1827 to form The Belfast Banking Company.



Tennent's Bank Note issues
Tennent's Bank was an important note-issuing bank in the north east of Ireland in the early 1800s. Along with the other two banks established in Belfast in the same period, Gordon's Bank (established in 1808) and Montgommery's Bank (established, 1809), it's note issues replaced gold in circulation. This was a modernising change in banking in Belfast and the north, which previously relied on specie rather than paper money.

Issued banknotes of Tennent's Bank are very rare. A few examples of proof and specimen notes are known.

Three Series of notes known for Belfast Commercial Bank
There are three Series by design, and four Types by partnership.

Series 1. Denominations recorded: £1.
Series 2. New design. Denominations recorded: 1 Guinea, 35 Shillings.
Series 3. New modern design. Denominations in British Pounds.

Four Types by partnership.
Type A. 1809-1815. William Tennent, Robert Callwell, Robert Bradshaw, John Cunningham, John Thompson, John Stewart.
Type B. 1821-1822. William Tennent, Robert Callwell, Robert Bradshaw, John Cunningham, John Thompson.
Type C. 1823-1824. William Tennent, Robert Callwell, John Thompson, James Luke, John Thompson Jnr.
Type D. 1824-1827. William Tennent, Robert Callwell, James Luke, John Thompson Jnr.

Denominations recorded: £1, 25 Shillings, 30 Shillings, £20. Others likely


Series 1, Type A

This note was payable in Dublin at Messrs. Croker, Darling & Co. This agent was based at the time in Townsend Street, Dublin.


Series 2, Type D



Series 3, Type D


References
1. Simpson, N., (1975). The Belfast Bank, 1827-1970, 150 Years of Banking in Ireland, Blackstaff.
2. Young, D. (March-April, 1981). The Private Banks and Their Notes, Belfast Commercial Bank 1809-1827, Irish Numismatics Magazine, No. 80. pp. 99-101.
2. Banking in Belfast: https://www.culturenorthernireland.org/article/414/banking-in-belfast.

3. Dictionary of Irish Biography, William Tennent, https://www.dib.ie/biography/tennent-william-a8507
4. Hill, E. D., (1924). The Northern Banking Company Limited an Historical Sketch Commemorating a Century of Banking in Ireland By the First Joint - Stock Bank Established in That Country 1824-1924. Northern Banking Company, Belfast.




---