Main Site Map < Old Banknotes < Bank of Ireland >
Series A 1784 < Series B 1791 > Series C 1815 > Series D 1838 > Series E 1864 > Series F 1918 > Series G 1920 > Series H 1922

---
Bank of Ireland Series B

1791 Bearer Issues
Banknotes Payable to Named Indivdual, or bearer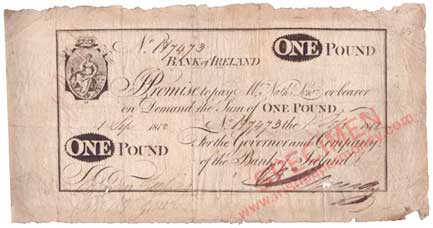 Many of the surviving notes are contemporary forgeries. Few genuine issued notes are available to collectors. One Guinea was an English gold coin with a face value of One Pound and One Shilling, its equivalent in Irish currency prior to the 1826 monetary union was One Pound, Two Shillings and Nine Pence, which is stated on banknotes of that denomination.



Series B. Bearer Issue, Dublin. 1791-1818
Banknotes payable to a single named person or the bearer. Banknote size varies by denomination. Uniface. Payable in DUBLIN. At this stage of its existence the bank operated in Dublin only. An elaborate watermark design covers most of the area of each banknote. Exact date, serial numbers, payee and signature added by hand. Known denominations are listed.



Bank of Ireland notes 1791 Three Types by design variation
Green and red seal on left side.
Payable to I. Carr or bearer.


Handwritten serial number.
Payable to J. Lee (handwritten) or bearer.


Payee's name now printed. New design of Hibernia crest.
Payable to Nathl. Low (printed) or bearer.


Type A. One Guinea note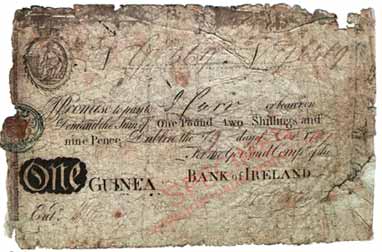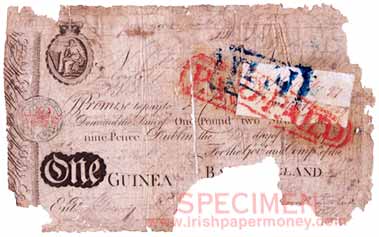 Type B. One Guinea, and One Guinea and A Half notes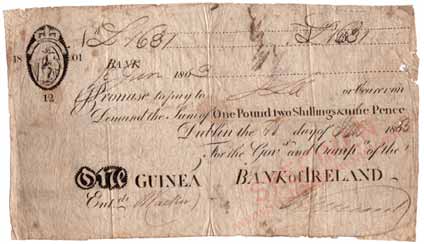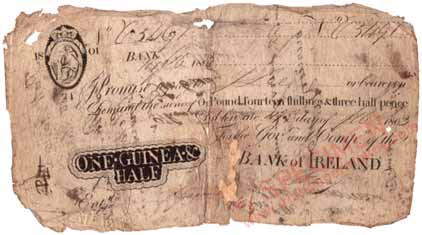 Type C. Five Pound, and One Pound notes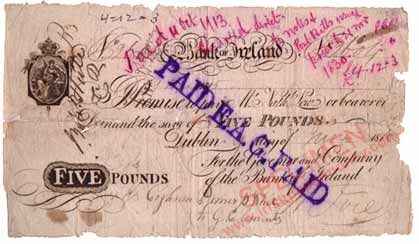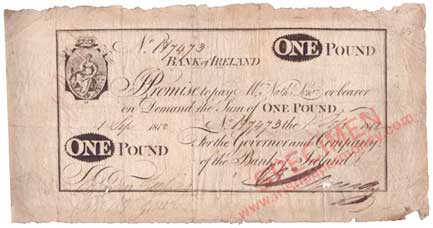 ---