Main Site Map < Old Banknotes < Northern Bank >
Series A 1825 < Series B 1850 < Series C 1920 < Series D 1921 < Series E 1929 Overprints

---
The Northern Bank

Series E 1929, Northern Ireland Overprints
Northern Bank 1929 Northern Ireland Overprints on Series B and Series D notes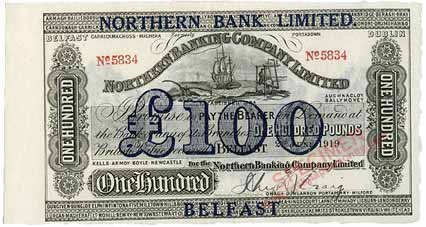 Two banks, Northern Bank and Ulster Bank, overprinted earlier issue notes to use them up in their first Northern Ireland Issue commencing 6th May 1929. Only One Pound notes were used for the Ulster Bank 1929 Overprints. Northern Bank overprinted several denominations.

Unlike other banks, £20, £50, and £100 notes of the Northern from this era have survived to the present due to their being overprinted for issue in Northern Ireland in 1929. The overprints allowed examples of these denominations to remain in general circulation up to the 1970s and beyond.

The Northern bank seems to have had a lot of unissued banknotes on hand when the 1920 Act became law, and again in 1929 when Irish independence lead to the partition of the Irish currency and the creation of the Northern Ireland issue for all the existing note issuing banks. This surplus of stock was reflected in the relatively large number of unissued banknotes from its earlier series being overprinted for use in Northern Ireland. Multibranch £10, £50, and £100 notes of Series B, alongside £5, £10, and £20 notes of Series D were those overprinted for use in Northern Ireland.



Series E 1929. Overprints on earlier £5, £10, £20, £50, £100

The overprint in dark blue ink was extensive, as the bank changed its name at the time, which is reflected in the text of the overprint. Thus, the text 'NORTHERN BANK LTD' or 'NORTHERN BANK LIMITED', and 'Formerly' is overprinted above 'The Northern Banking Company Limited' on the top of each note, with the word 'BELFAST' added on the bottom panel. The overprint does not amend the date or serial number of any of the notes. Although these banknotes all bear dates prior to 6.5.29, none of the notes of the overprinted issue entered circulation before this date.



Two Types by design variation

There are two Types for Series E: Type A, overprints on multibranch notes; and Type B overprints on notes without branches. Notes with the following original dates were overprinted.
Type A multibranch: £10 (1920), £50 (1914, 1918), £100 (1919).
£10. 1 Mar 1920.
£50. 5 Aug 1914, 25 April 1918.
£100. 2 Jun 1919.

Type B without branch listings: £5 (1927), £10, £20 (1921).
£5. 1 Sep 1927.
£10. 10 Oct 1921.
£20. 20 Oct 1921.

Type A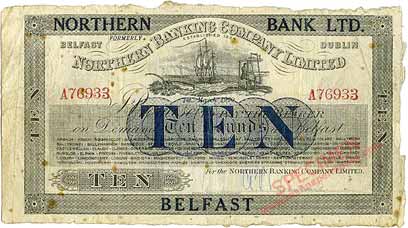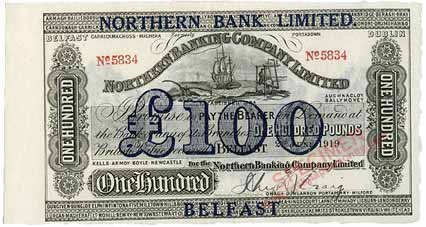 Type B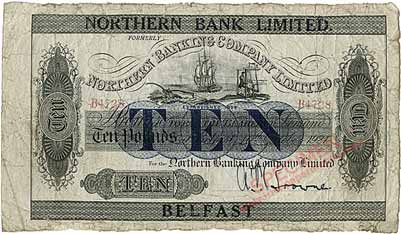 Signature varieties

There are several signature varieties for some of the denominations of the Northern Bank 1929 Overprinted Northern Ireland Issue.