Home < Main Site Map < Old Banknotes >
Agricultural and Commercial Bank - Bank of Ireland - Belfast Bank - Hibernian Bank - National Bank - Northern Bank - Provincial Bank - Ulster Bank

---
All-Ireland Banknotes - The Hibernian Bank
1826-1829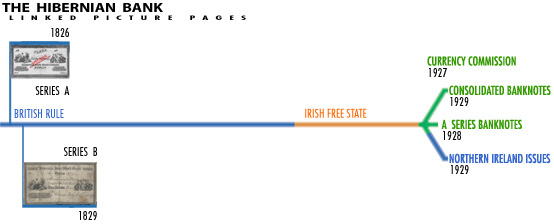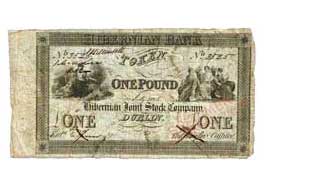 Hibernian Bank, Two Series: Series A 1826 Series B 1829



The Hibernian Bank
1825-1958
Irish Joint Stock Banks of Note Issue, 1824 Act
The 1824 Act allowed the creation of Joint Stock banks of note issue in Ireland with the right to issue notes outside of a 50 mile radius of Dublin, with Bank of Ireland retaining a monopoly on note issue within that radius. Prior to this the only joint stock bank in Ireland had been the Bank of Ireland, which had been established as a private joint stock bank by Royal Charter in 1783 and had sole right of note issue for a bank with greater than 6 partners.

An Act in 1825 allowed for public joint stock companies, and it was this which paved the way for the formation of large Irish joint stock banks.


The Hibernian Bank was founded as The Hibernian Joint Stock and Annuity Company in April 1825. It opened its only branch in Dublin on 20 June 1825 with 1063 shareholders, many of them London based. Its foundation by a group of Dublin businessmen was in response to anti-Catholic discrimination by Bank of Ireland. It changed its name later to The Hibernian Bank. The bank aimed itself primarily at the Dublin business community.



Hibernian Bank Token Issues

Because the Hibernian Bank was based in Dublin, it was not permitted to issue banknotes of its own because of the Bank of Ireland's monopoly on note issue in Dublin.

Bank of Ireland opposed any attempts by The Hibernian Bank to acquire the right to issue banknotes of its own. The Hibernian issued Tokens, engraved on stamped paper, signed and dated. Although legal, these were withdrawn following their opposition by Bank of Ireland.

Token denominations seen in cancelled issued form are 30 Shillings and £1. Proofs have been seen of 30 Shillings, £1, £3, £20.

There have been unconfirmed reports of a Hibernian banknote issue dated 1825 or 1826. This may be the banknote-like Three Pound post bill, dated 1829.

In 1844, the Hibernian again tried unsuccessfully to obtain the right of note issue. Any further attempts to obtain the right to issue its own notes were prevented by the Irish Banking Act, 1845 which prohibited any bank which did not then have the right of note issue from acquiring such a right, as well as ending the Bank of Ireland's monopoly on note issue in the Dublin area.

In 1885 the Hibernian Bank was reconstituted and the name changed to The Hibernian Bank Ltd. The Bank received the right to issue its own Banknotes in 1929, when it issued Consolidated Banknotes in the Irish Free State.

The Hibernian Bank was taken over by Bank of Ireland in 1958.